Snacks and skincare products are getting big better-for-you makeovers, and we're paying attention. A new cohort of consumer packaged goods (CPG) brands is disrupting centuries-old categories with healthier ingredients, time- and money-saving ingenuity and educational content that's speaking to younger shoppers in ways that slow-to-change legacy brands you've seen forever just won't (and can't). 
Who's leading the CPG revolution and what can you learn from them? Here's a breakdown of some of our favourites.
Heyday Canned Goods
Inflation shopping is on our mind. And your grocery store's canned aisle is getting some long-overdue love. Promising to help you "create flavour-packed meals presto pronto", Heyday Canned Goods has set out to save us time and precious cash with one twist of a can opener.
Founded by approachable and relatable "home cooks" Kat and Jaime, the women-owned brand launched with six bean-forward recipes ranging from Apricot Glazed Baked Beans to Coconut
Curry Chickpeas. They solve the age-old question "what do I make for breakfast, lunch or dinner?" in one shelf-stable snap. If you're already sold, you can find them in Whole Foods and Sprouts across the US.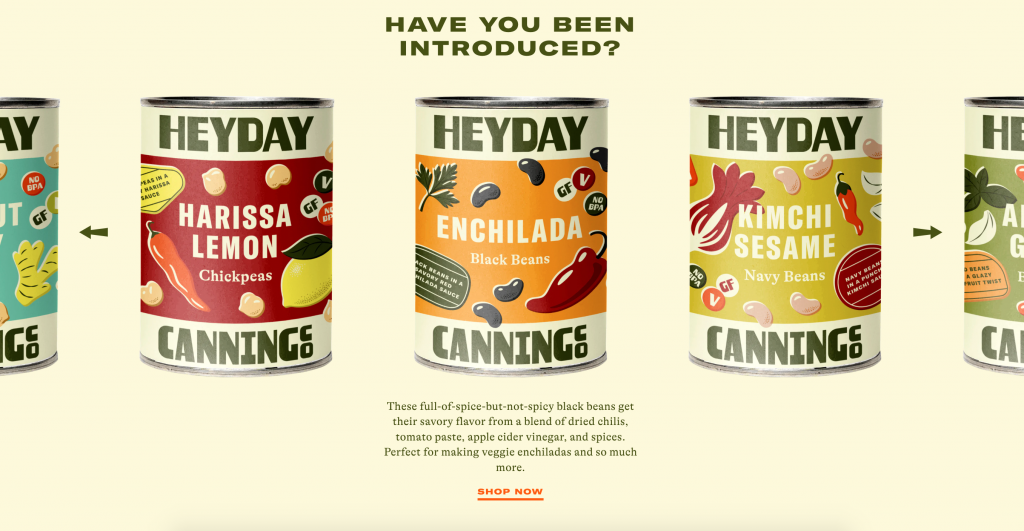 What can you learn from Heyday?
How an immersive web experience rooted in education can support retail sales 
What solid positioning sounds like. "Canned, but never bland, beans" immediately separates Heyday from the other aluminium cylinders that have been on shelves for longer than we want to know.
The value of not getting lazy. Anywhere. Every element of their brand and web experience is consistent, thoughtful and intentional—crucial for building trust when you're a new brand disrupting a 200-year-old category.
Clever art direction that gives customers meal ideas in seconds flat—in a super fun, vibrant package that draws you in and keeps you on the page.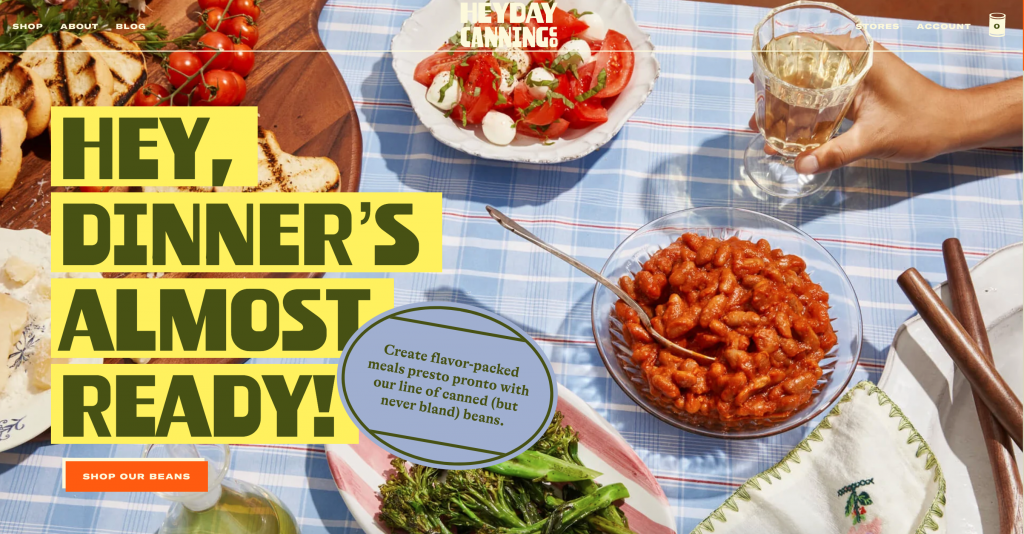 Prose Custom Haircare
With customization everywhere these days—from insoles to eye cream—Prose stands out by making the made-for-you journey more beautiful, efficient and enlightening. Their online quiz considers 85 factors that impact your hair, like texture, styling habits and your local climate. Five minutes later, and you'll know the exact-right combo for your hair, with 165 possible sustainably-sourced ingredients making up your proprietary blends.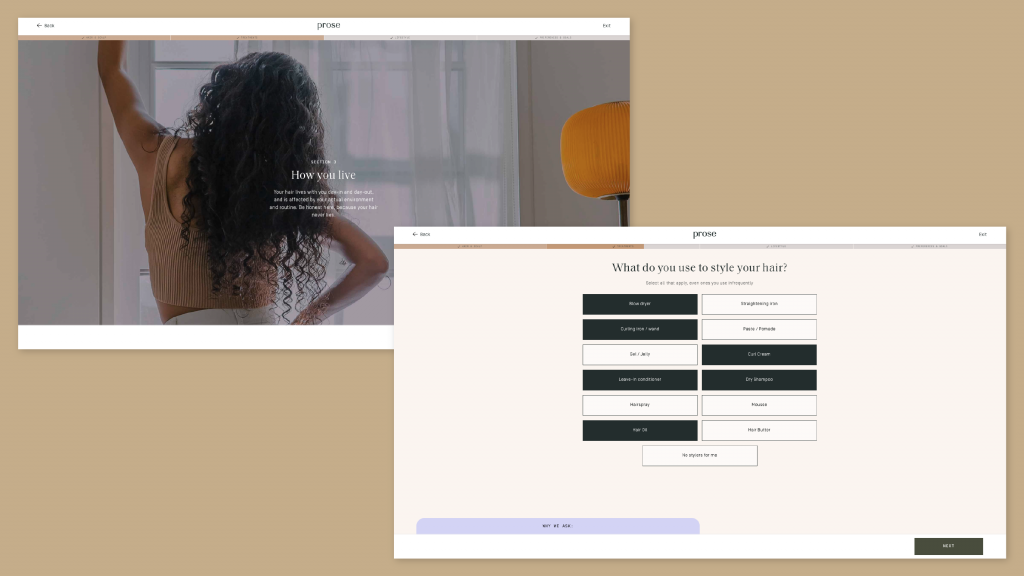 Prose's genius is in their restraint. They have so much to talk about, from ingredient quality to their impressive tech-enabled customization process. Yet they've chosen the right time, place and format to deliver specific, clear and fun-to-read guidance without bombarding or overwhelming you.
What can you learn from Prose?
How to share a distinct perspective on the value of personalization 
Never leaving their audience guessing or wondering what comes next 
Backing up their sustainability claims up with clear validation and empowering their community with achievable, earth-friendly actions they can take, too 
Expertly guiding customers through the customization journey so they don't drop off mid-way through, and keep coming back for more 
The power of partnering with values-aligned brands on a fun campaign for maximum reach—like this one they did for friendsgiving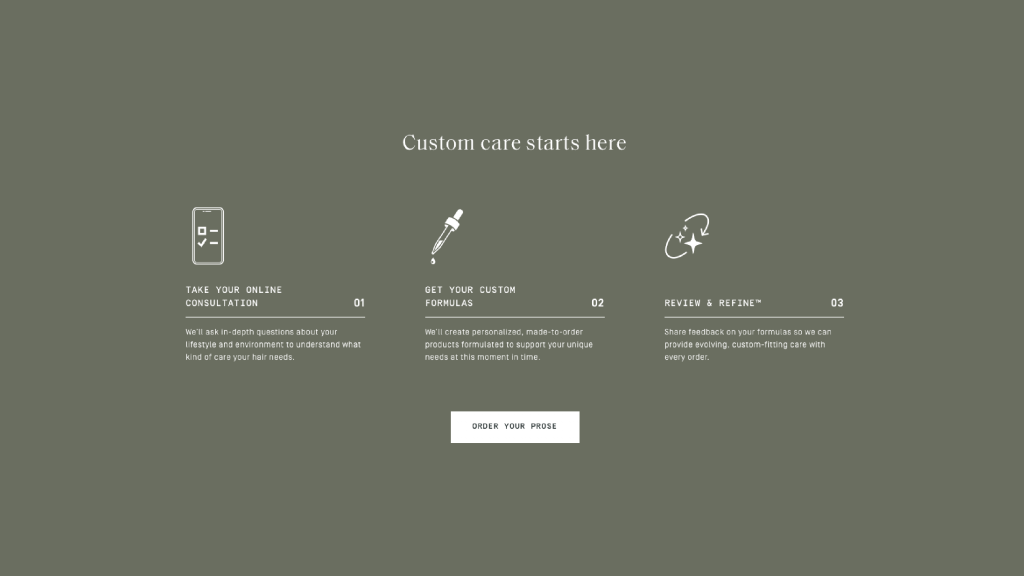 Graza
Claire Saffitz, chef and host of my favourite pandemic-era entertainment, Gourmet Makes, helped me understand that every bottle of olive oil was not created equal. Then Graza came into my life and took my EVOO education to another level, arming me with tasty little bits of knowledge that helped me convert every one of my family members over to their squeezable liquid gold. Graza's mash-up of old-world inspired typography and illustration with new-world neon and pithy copy delivers a smart and refreshing olive oil brand that shines brighter than all the mainstay staples in aisle six.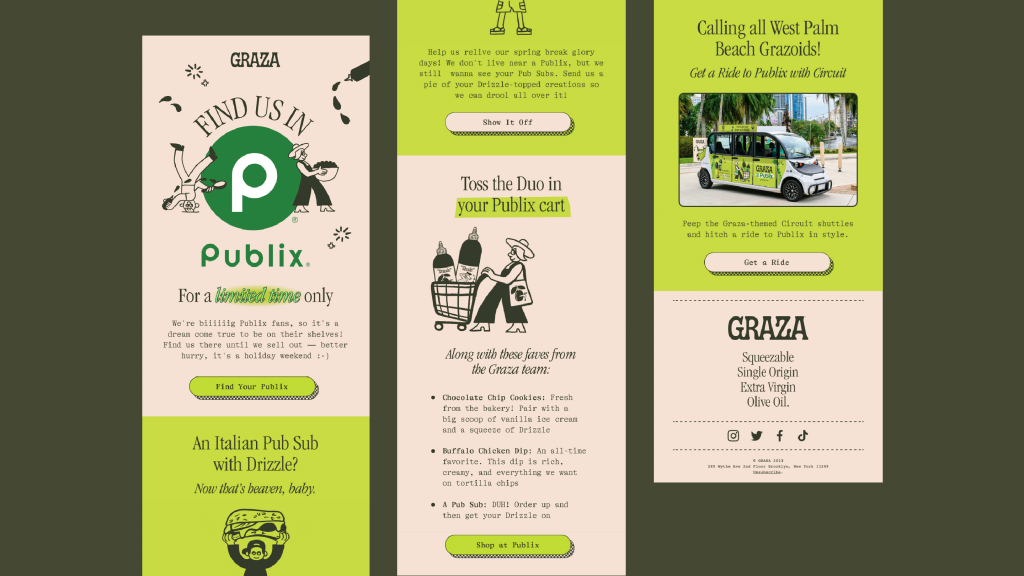 What can you learn from Graza?
How a well-defined brand voice can make product education a joyful (and memorable) experience
A playbook for continually creating relevant, interesting content around a super tight-knit product line
Making your email campaigns irresistibly openable every. single. time. (Here's every one they've ever sent)
Ensuring no one misses your new retail announcements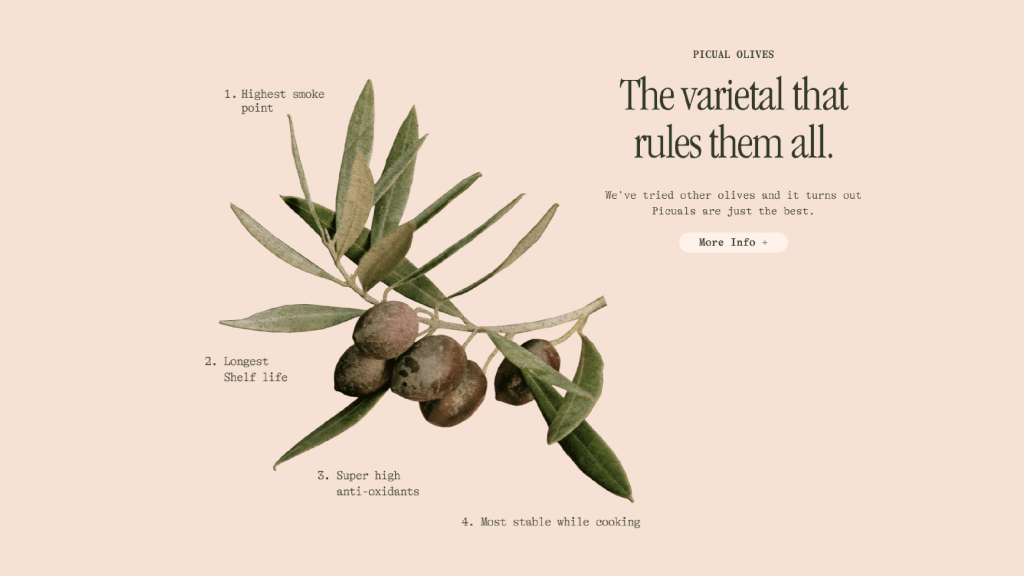 The power of partnering with values-aligned brands on a fun campaign for maximum reach—like this one they did for friendsgiving
I have, in fact, made many of Graza's recipes and they are as delicious as they look—this one is on heavy rotation in our house all year round.
Inspired by what these brands are up to? We've helped fast-growing CPG brands like BelliWelli, Better Basics, Sunscoop and Skinsei get their content roadmaps rolling—and we'd love to support you with yours, too. Drop us a line.