Finding the Stoko story 
Stoko was built by athletes who were frustrated with bulky, archaic knee braces—so they made something better. A totally new category— Supportive Apparel—was born from their founder's first-hand experiences as an elite athlete and came with a big bank of knowledge and ownership. 
The big challenge for Stoko? The product is intensely technical—and Stoko was focused on the mechanics of their performance tights. Paired with the significant cost investment, this made the case for purchase a lengthy process. Monday stepped in to build deeper brand messaging and a compelling marketing roadmap that would keep the story—and the sales—going.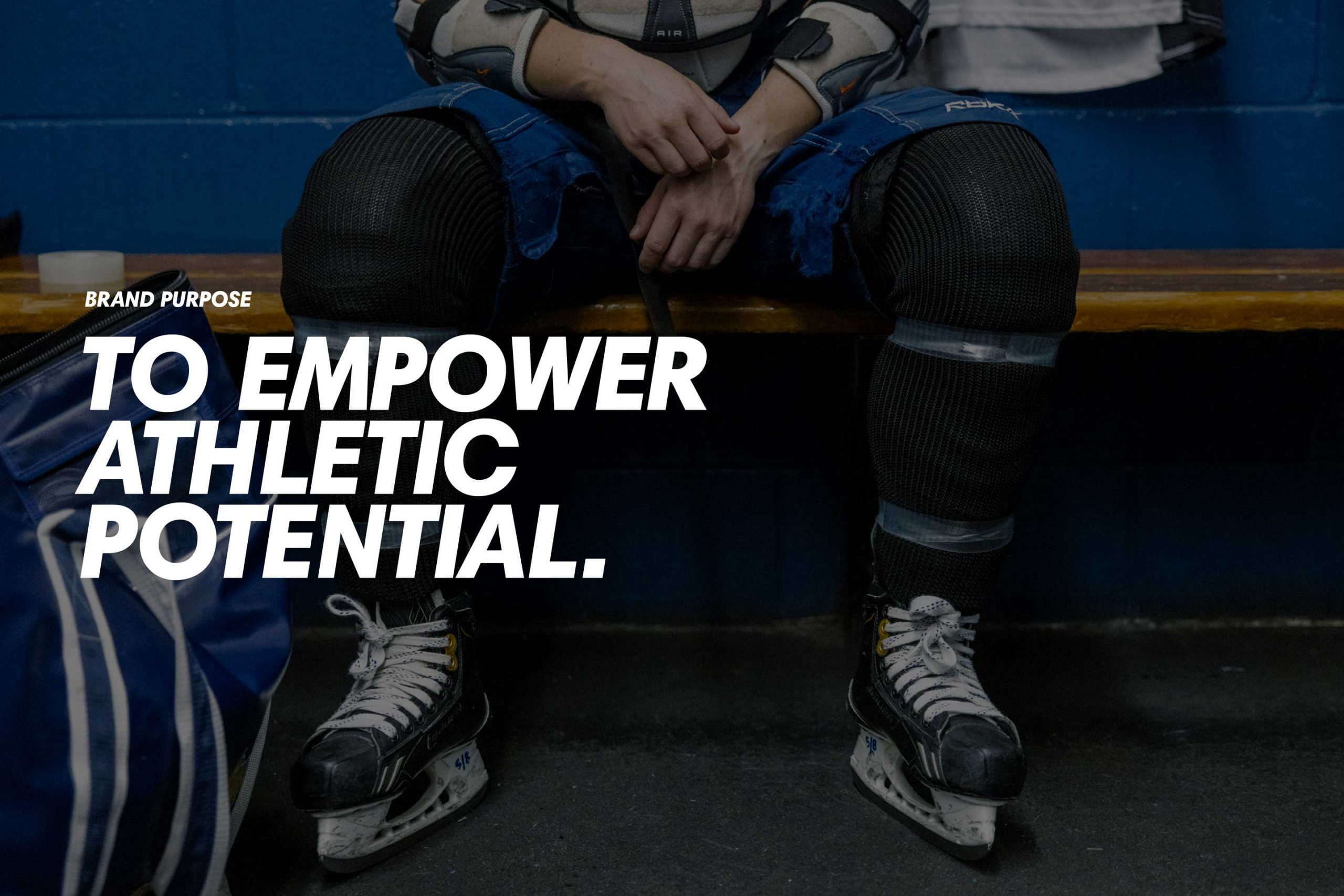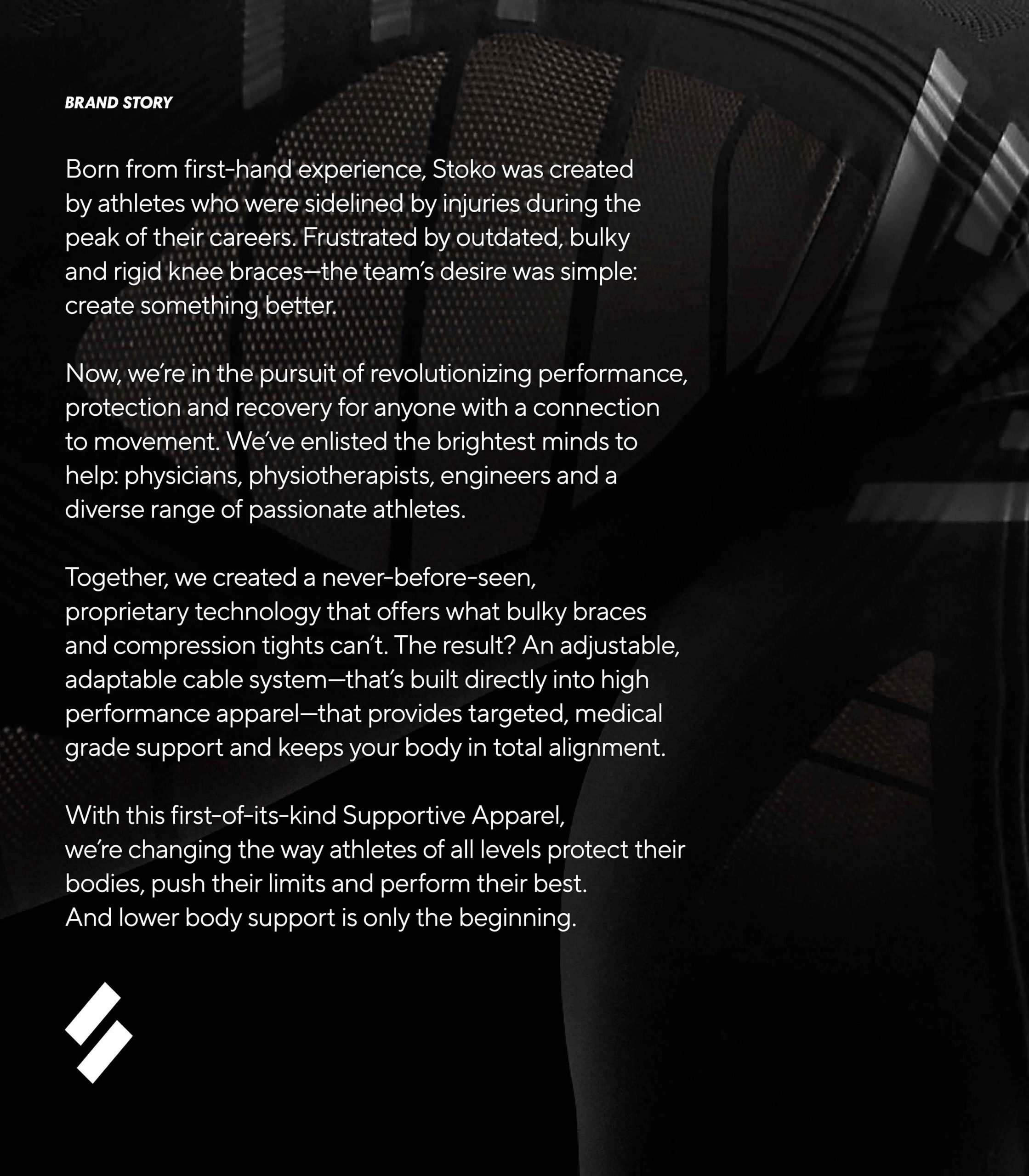 Finding the athlete in all of us

We pushed through Stoko's technical acumen and uncovered their ultimate brand purpose: empowering athletic potential. The brand believes that everyone is an athlete in their own way, and they exist to support all levels of abilities. 
Instead of speaking strictly about how their apparel works, Stoko needed to communicate how it enables us to live better lives. We identified and interviewed three personas whose common thread is their passion for movement—then we created key messages to help Stoko convey value to this diverse lineup. 
Next was a brand voice that inspires confidence without being overbearing. If you bumped into the Empowering Explorer on the trail or the court, we guarantee they'd motivate you to step up your game. 
The end result? Honing in on their purpose gave Stoko new ways to talk about their Supportive Apparel—making the brand more accessible to a bigger audience.
Prevent, protect, and perform
To showcase how Stoko fits into different lifestyles, we directed a documentary-style photo shoot with photographer Michael Overbeck—building a narrative of relatable experiences for athletes of all kinds as they plan, train, and recover.
Showcasing Stoko's performance tights in action across different sports and settings emphasized the brand's core elements for its key personas—from performers at their peak to those returning to play and recreational veterans. It also served to build a bank of content for the brand as they prepared to scale up their marketing efforts.
Sustaining marketing momentum
Stoko needs to nurture consumers for the long haul, so we gave them a content strategy that sells through storytelling. Team Monday became an extension of Team Stoko—embodying their values to write blogs, craft social ads, and design B2B sales collateral. 
The biggest piece of the puzzle? Email marketing. We built an acquisition blueprint focused on gaining subscribers. Everything comes to life through a set of modular email templates that are a breeze to build and send—so the small-but-mighty Stoko crew can keep momentum steady.
"The Monday team has been a wonderful creative partner for Stoko. They elevated our tech assets to another level using creative solutions to highlight our invisible tech and bring it to life clearly and beautifully."
— Derek Scott, Director of Marketing, Stoko
The future of supportive tech
Stoko's medical-grade support is no joke, and now they have the tools to share it across a range of touchpoints. But even when you have an effective toolkit, there are some things that just can't be captured in 2D. 
Collaborating with the team Big Boy Studios, we concepted, modeled, textured, lit, and scored a captivating 3D film to better explain the Embrace System™ technology hidden within every pair of K1 tights.