If you're a brand with overseas manufacturing—whether you're in the world of apparel or gear or tech—managing through product delays has become a part of your weekly marketing roundtable. With COVID-19 pushing the global market online and factories forced to either reduce production or stop completely, before long the demand for online shopping outpaced supply. Add the fact that ports are clogging up and workers are in short supply, it's no wonder there's a kink in the system of getting things from A to B.
The truth is shipping delays are projected to continue through 2022. So, now is the time to do a second pass on how you're engaging with your customers. It'll inevitably help you roll with any pesky punches that come with a fractured supply chain.
Take this past year's Cyber Monday, for example. According to research conducted by Adobe:
"On Cyber Monday [2021], the prevalence of out-of-stock messages was up 8 percent compared to a week before (on Nov. 22). In the month of Nov. 2021 so far (through Nov. 29), the prevalence of out-of-stock messages is up 169 percent vs pre-pandemic levels (Jan. 2020) and up 258 percent vs two holiday seasons ago (Nov. 2019)."
You may not be able to side step supply chain issues, but there are many ways you can future-proof your business to stand against the (hopefully temporary) setbacks. Here are a few to consider:
1. Create transparency about delivery delays and set expectations
The name of the game here is honesty. Be upfront about your commitments, and communicate as you have information to share, while staying true to your brand voice. This builds trust with your audience and ensures you don't have to backtrack on unrealistic promises.
A great place to proactively communicate shipping expectations is your FAQs. Consider adding frequently-asked questions related to shipping or you can even create a page entirely dedicated to shipping FAQs.
Want to be even more transparent? Follow Peloton's lead. They include delivery times right in their PDPs to set expectations for customers before product goes in the cart. This ensures customers aren't left with any surprises when it comes to shipping timelines after they've placed an order.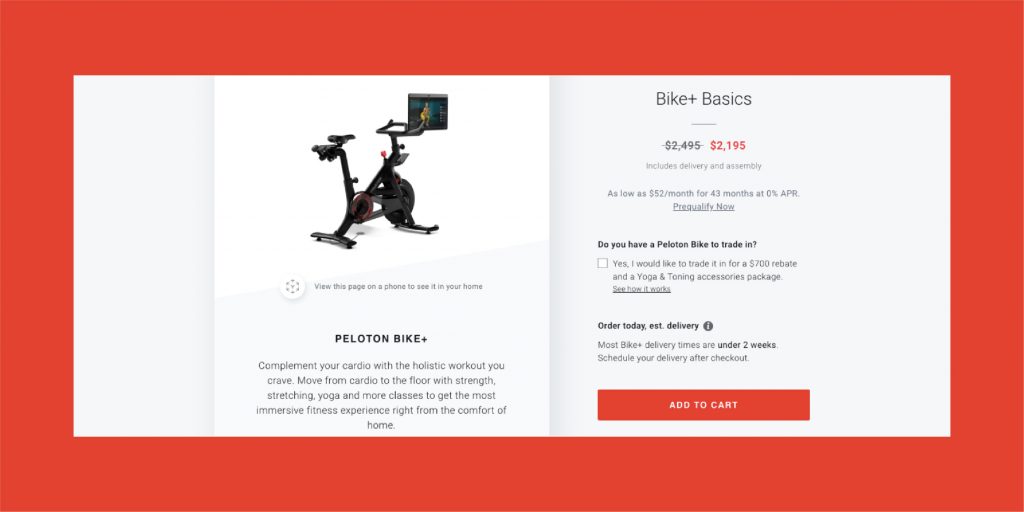 2. Fine-tune your 'fit wayfinding'
If your customers are already waiting a while, make sure they get the right product when it finally lands. It's never been more important to polish your PDPs (product description pages) so customers can buy the right product in the right colour and the right size—the first time.
Here are some methods to make sure your audience has all the info they'll need:
Offer size charts and make it clear how customers can take their own measurements
Use models of different sizes in product photography—and share the models' height and what size they wear
Share photos in studio light as well as natural light to showcase true colours
Pull user-generated content (think Instagram) into PDPs to give your audience additional styling ideas and the ability to see products at different angles
Go a step further like Alex Mill (below) and give customers the option to add height, weight, size, and fit to their reviews so prospective customers can find reviewers who are similar to them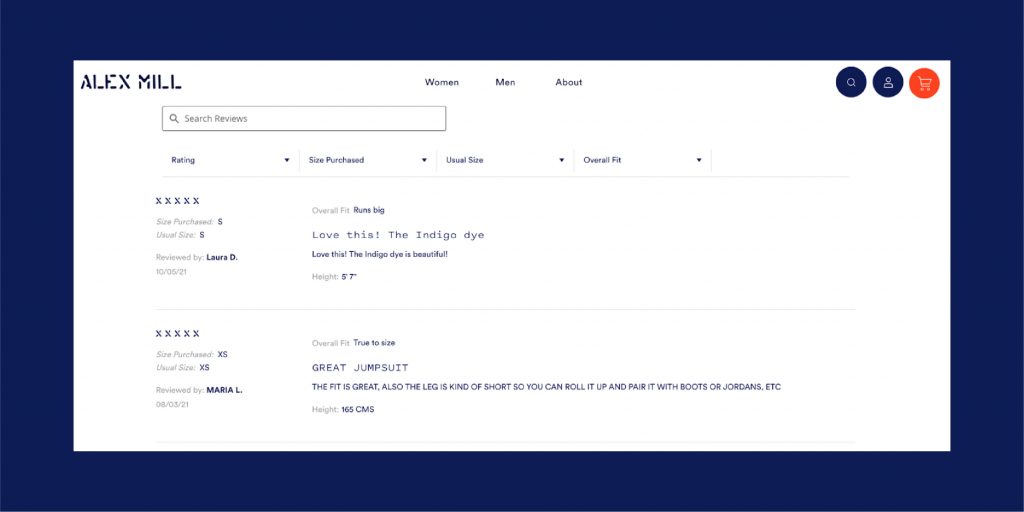 3. Stay on top of your restock communications
Give customers an option to sign up for an alert when the product is back in stock in their size. This way, you'll capture their email address and their interest while they're in a purchasing mindset.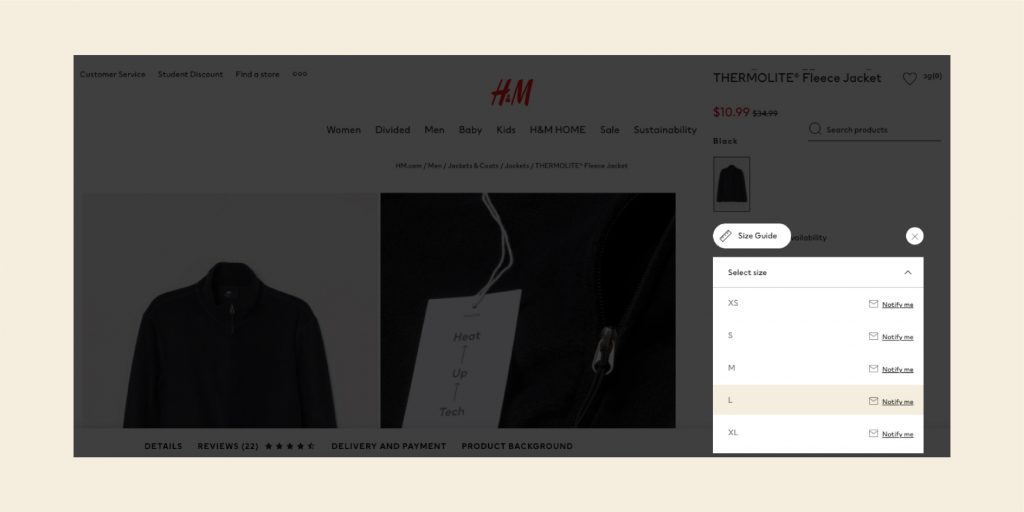 You can also create an email nurture campaign to alert newsletter subscribers when your bestsellers come back in stock. Arc'teryx has some great examples like this most requested email and this weekly stock drop email.
Of course, sometimes you'll have products that you never plan to restock. Once a seasonal product sells out, include a bit of surprising microcopy (in your brand voice) to make it clear that this product won't be coming back. Offer suggestions of similar items that are in stock, point customers to items other customers have purchased after viewing this item, or drive them to a gift card.
An added layer to the restock conundrum? The need to say adios to the old and hola to the new—and in a timely manner. If last season's inventory arrived late and next season's merchandise is knocking at the door (the ol' one-two-punch), consider launching a limited-time promotion to amp up your out-of-season sell-through. Everlane does a wonderful job at that while staying true to their brand promise of radical transparency.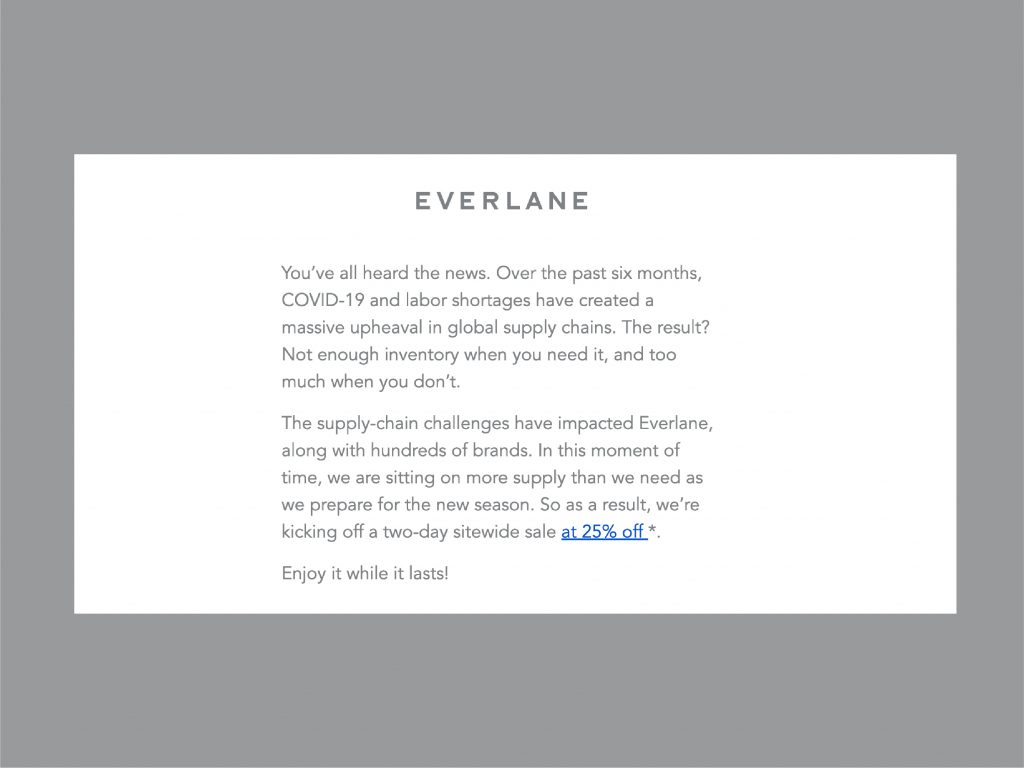 4. Develop a robust gift card program
Get creative with your gift card offerings and develop a campaign for gift cards. Outdoor Voice does this well with a pop-up on their website to promote gift cards during strategic times, like when their customers are reaching the final few days of holiday shopping.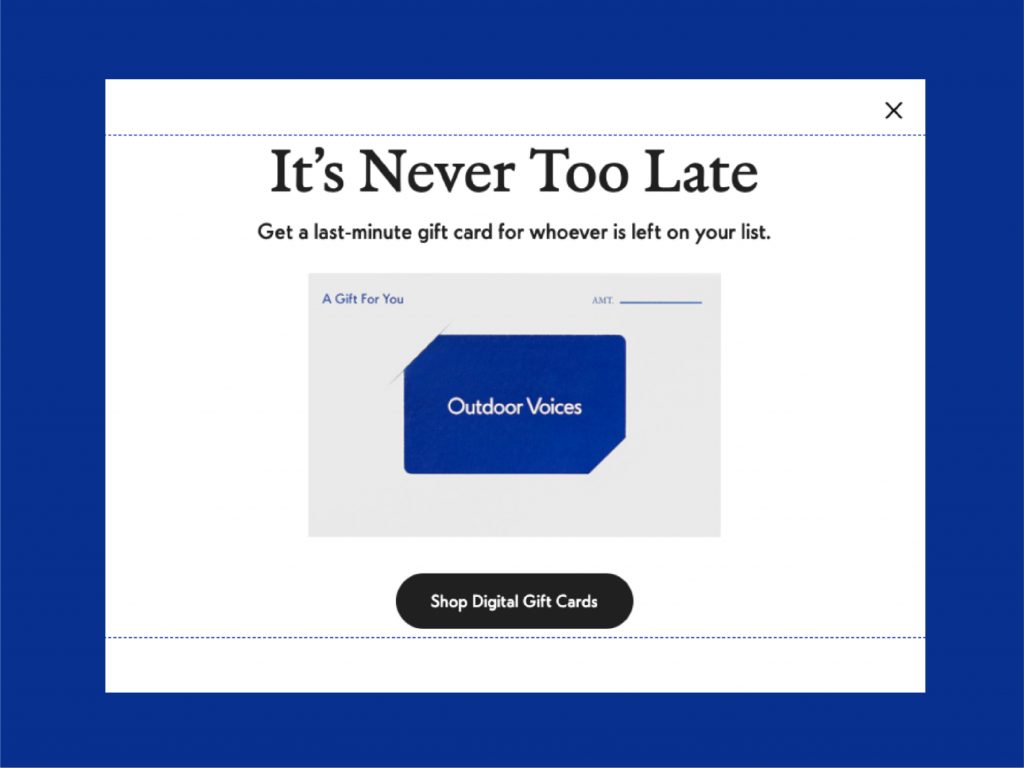 To make it extra compelling, OV uses their PDP to showcase the fun, branded packaging that comes with a physical gift card—but also offers customers the chance to purchase a digital gift card if time is of the essence.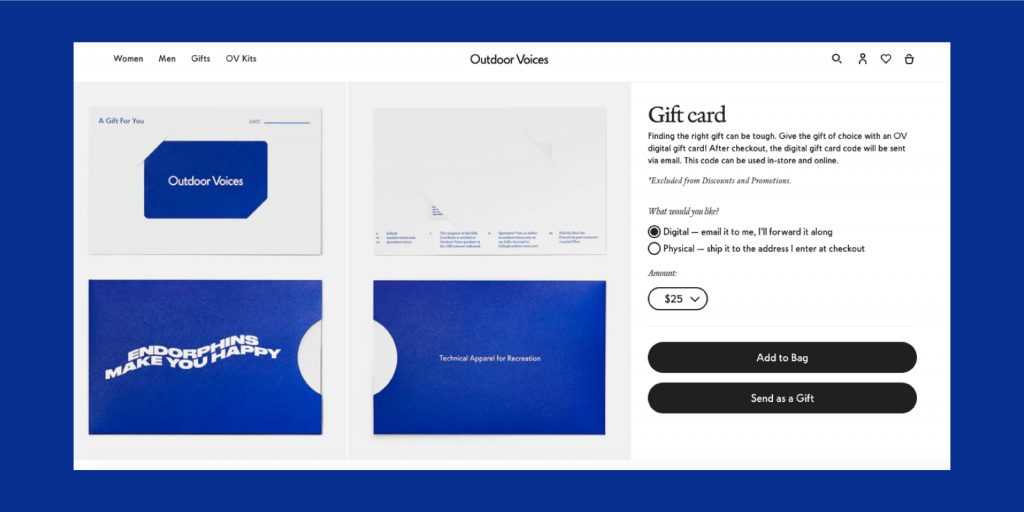 At checkout the gift sender can customize their gift card with a message and one of four OV visuals. It's a thoughtfully designed process that gives the customer an opportunity to get creative and personal.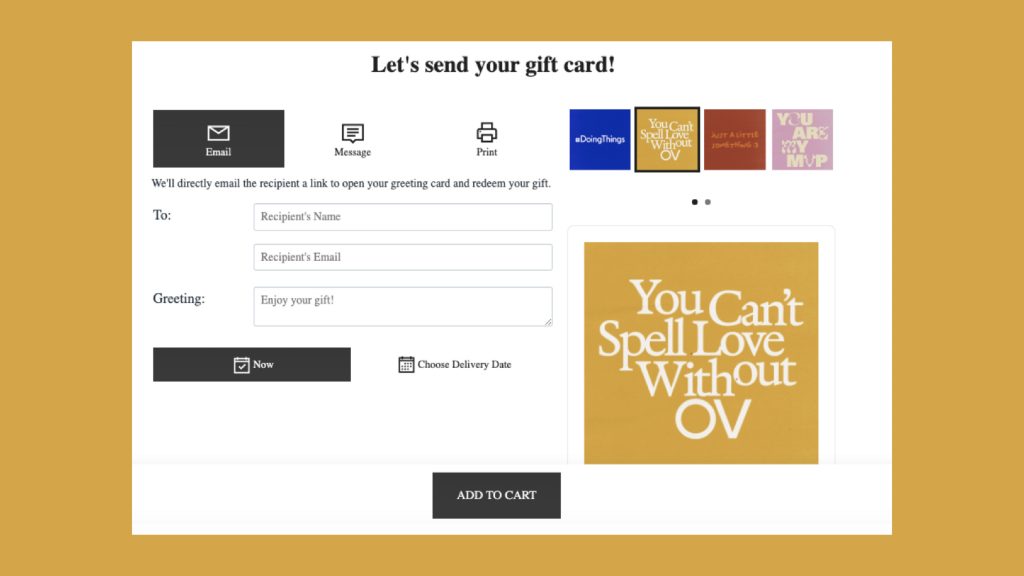 5. Invest in customer support
Nurture leads and drive conversion by building up your team dedicated to monitoring customer questions via email and social. This helps frustrated consumers get the answers they need quicker than Just Jared can post the latest picture of Bennifer. It not only preserves the integrity of your brand, it's an opportunity to further connect and engage with your audience on a one-to-one basis.
Step it up even further with live chat. Nothing gives a customer the warm and fuzzies quicker than having their all-too-important questions answered in real time. You can even ante up your chat game with AI. Chatbots can automatically answer those more common FAQs, ultimately leaving more time for them (and you) to seize the day.
6. Entertain, educate, and engage your funnel
When you don't have a product to sell, focus on strengthening your customer relationships by creating content that focuses on brand-building instead of product. When luggage company Away knew they wouldn't have suitcases in stock for a few weeks ahead of their initial launch, they released a book that celebrated their brand key messages. This built hype around the upcoming launch and also allowed customers to pre-order a suitcase with the gift card that they received when purchasing the book.
To strategize buzz-worthy content opportunities, consider the three Es:
Entertain: How can you make your customers smile? What kinds of brand-aligned content will stop them in their tracks and give them something they'll want to pass along to their friends?
Educate: What can you teach your customers about your products? About your industry? Or your process?
Engage: Respond to comments on social media. Invite customers to reply to your emails, and then have a human follow up to those responses. Build communities on Slack or Facebook for your audience to meet one another.
7. Invest in your core brand positioning
Brands that have a rock solid brand strategy stand the test of time. Positioning should not be about the specific products you sell—rather, focus on your differentiators and why you do what you do. This is what ultimately builds brand loyalty and keeps your customers from simply finding a similar or more affordable product elsewhere. Loyal customers will wait for your restock if they believe in your mission and support your brand.
So where do you go from here? It's true that with new and evolving supply chain setbacks, many brands are faced with a unique predicament—the need to continue to engage and convert with limited or delayed product. By investing in your ecomm game now, you'll keep your customers close-by and ready to add-to-cart for when that supply starts rolling back on in.
Want to explore creative solutions to keep your customers connected until product gets to port? Drop us a line and we'll problem-solve together.