Shopping has changed for good. Pundits have been predicting the slow death of wholesale for years and COVID-19 put the final nail in the coffin. By now even the latest adopters have now discovered the payoffs of bringing their retail experience online—you form a direct relationship with your customer and control the narrative of your brand, with none of the real-time demands of a brick-and-mortar storefront, the cost of trade shows or demands of stockists.
Now that ecommerce is everything it's easy to think that you only need to slap up a Shopify site and the rest will take care of itself. But creating a dot-com that thrives long term is an ongoing investment of time and resources. Time and again we see retailers overlooking simple steps that can cost them thousands in missed conversions.
We compiled those things into a simple list: eight things your ecommerce site needs to connect and convert.
1. Clear, simple calls-to-action
The bottom line is that people need to be told what to do—and the best call to action is often the most direct. Be explicit and straightforward. Make it crystal clear where the customer will go if they click on a button. Ultimately, the most effective CTA for ecommerce is simple: "Shop Now."
Don't make the customer work for it or scroll for it. Put the call to action front and centre, above the fold to make it as easy as possible for prospective customers to make a purchase.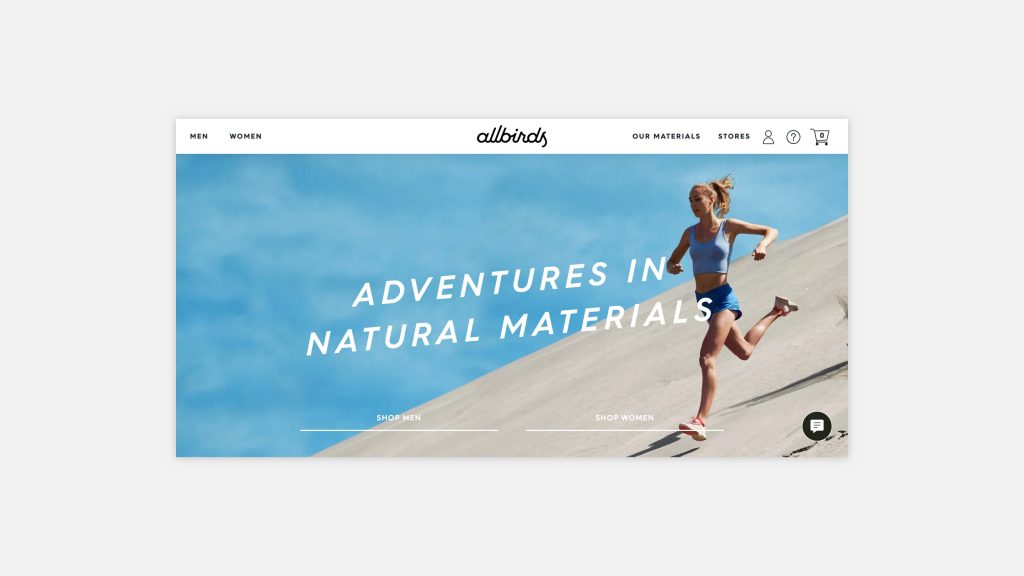 Sustainable apparel brand Allbirds offers two clear side-by-side CTAs on their website to immediately launch you into the shopping experience.
2. Strategically (and regularly) merchandise your "store"
If you were merchandising a brick-and-mortar storefront, you'd focus on dressing your mannequins to entice people to come into your store—your ecomm store is no different. Products you show front and centre on your homepage should always be timely, relevant, seasonal, and—most importantly—in stock. Merchandising is an act of constant reevaluation. Aim to highlight a mix of products that consistently sell well with products you want to move.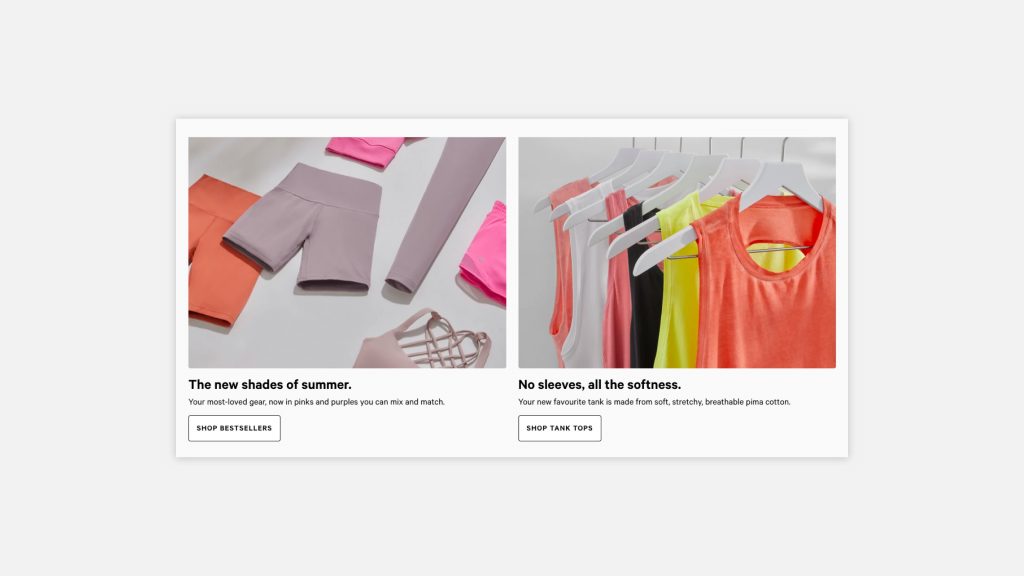 Technical apparel brand Lululemon creates a side-by-side story on their homepage that showcases best-selling products in the season's newest colourways alongside a new seasonal tank.
3. Write engaging, educational product description pages
Product description pages (often called PDPs), are the salespeople of your ecommerce site. These pages are where your customers learn about your products' features, see the product from all angles, and ultimately make a decision about whether they'd like to make a purchase. Highlighting the functional details of your product and how it serves the customer's needs can be the ultimate thing that pushes them to add to cart. They are the secret weapon of the ecomm world. We care so much about PDPs that we've written a whole blog post about them. Read it here.
4. Make the checkout process safe
You should always be looking for ways to build trust. One of the simplest additions you can make is adding a trust badge (like the ones offered by Norton, McAfee, TRUSTe, or Shopify Secure) to reassure consumers that their purchase is secure. A survey conducted by Matthew Niederberger of Actual Insights found that ecomm checkout experiences that included a trust badge increased the perceived trustworthiness of a sale for a whopping 75% of respondents.
In addition to your trust badges, there are plenty of other ways to build confidence throughout your checkout process. Consider offering free shipping and returns, a risk-free trial and/or warranty for expensive purchases so that consumers feel at ease trying something new. And help them avoid any surprises that could derail a purchase at the final moment by showing the product in their currency, and including duties in the cost.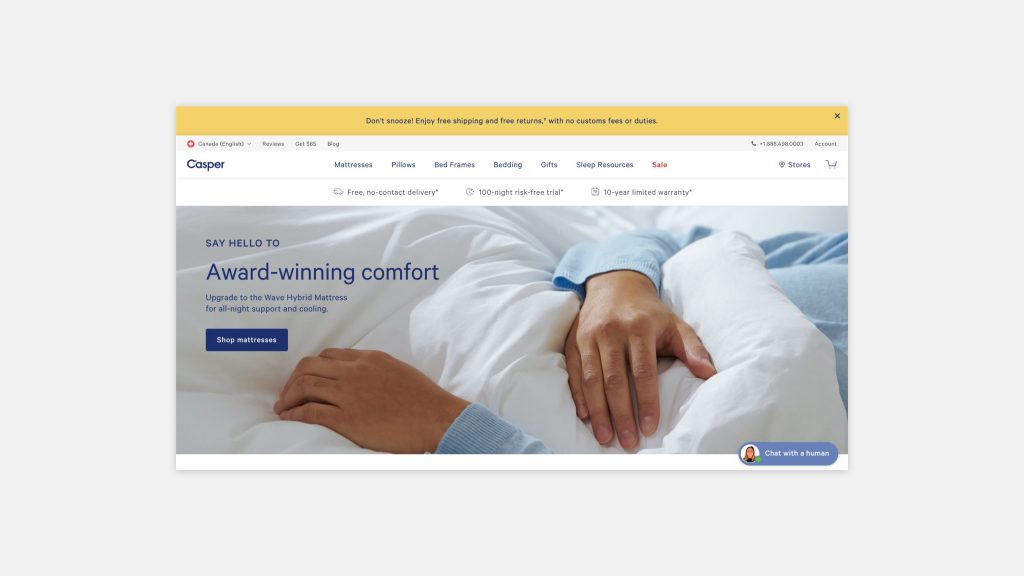 Direct-to-consumer mattress brand Casper offers multiple forms of trust right on their homepage: from mentions of free delivery, a 100-night risk trial, and a 10-year warranty to an option to chat live with a human.
5. Add third-party validation
Another way to garner trust with your customers is to include third-party validation throughout your site. Reviews and ratings back up your marketing claims by showing consumers that people like them have vetted your brand and products.
There are myriad ways to offer up third-party validation—include customer reviews or star ratings on your product description pages, pull user-generated content onto your homepage, or share how many other shoppers are currently on the website shopping with you. To add an additional sense of urgency, you can even include how many other shoppers currently have the item you're viewing in their cart.
6. Harness the power of email automation
Automated emails help you stay connected to your customers long after they've left your website—reminding them they left something in their cart or even just showing them a curated selection of customer favourites. Setting up some crucial email automations is a win-win: they keep your customers informed and engaged, and you only need to set them up once. Check out our dedicated email automation blog post to find out why they matter, and the three email automations every brand should have.
7. Invest in photography beyond your catalogue
Consistently, we see clients underestimate how much photography they need for their ecommerce site. If your product is seasonal—relying on a fresh collection every three to six months—then you already know the demands of keeping up with catalogue photography. But keeping your site (not to mention your social channels) fresh requires more than just product imagery on a white background.
Many large brands address this need with weekly campaign or lifestyle shoots—showing their product in situ or in beautifully styled sets. While that pace is out of reach for smaller brands, we suggest budgeting for at least four shoots a year in addition to your ongoing catalogue shoots—it gives your site a sense of newness and offers you enough content to keep your ads and social feeds from going stale.
Fashion brand Aritzia includes imagery on their website which shows models out of the studio, taking advantage of natural lighting and a change of scenery to sell their products as an attainable lifestyle.
8. Establish and measure analytics
While this might not drive conversion, it certainly will help you understand what does. Get Google Analytics up and running from day one to establish a baseline, learn patterns and track what's converting. Look for what days of the week/times of day you see traffic spikes, which pages of your website are drawing the most visitors, etc. This will help you decide everything from when to drop new products to how to set targets for the traffic bump you're hoping to get from advertising spending.
Pouring time and resources in your ecomm platform is an investment, but one that pays off. Small tweaks to your merchandising, checkout process and assets all add up to huge gains in customer loyalty and revenue down the line.
Ready to dive in? We've helped brands of all shapes and sizes launch new ecomm experiences and ramp up their existing ecomm presence. Get in touch to find out how to make your ecomm experience work for you.