We believe great content should lure you in with a once-upon-a-time hook and end with a happily-ever-after high that leaves your audience feeling totally satisfied with their interaction with your brand.
From circularity in used outdoor gear to creating a wellness community from the ground up—we've crafted plenty of stories in our time, but we're always looking for new tales to tell through insightful art direction.
Monday client Flax Home recently asked us to create a visual story for a new product shoot. And though they sell bedding (and tons of other luxury linen products), they didn't want to put their customers to sleep. So, the challenge was to craft a compelling story around a love for linen.
But how do you approach spinning a yarn about yarn? CapU IDEA Program Mentor student Emma Sato headed up the art direction with guidance from Monday's Ryan Romero and Nicole Shewchuk—and these are their top tips for telling stories through imagery.
1. Do your research
There's no two ways about it. All great stories begin with knowing your subject. Before diving into creation, do a deep dive on your client, their product, their audience and their specific needs. First used 8,000 years ago, linen is the oldest textile material in the world. So when it came to working with Flax Home, there was no shortage of material (pun intended) to learn from.
2. Tap into real life
The bedroom has been a sanctuary for many during the pandemic. For plenty of people, their bedsheets have taken the form of a woven womb—one of the final comforts left untarnished during such an uncomfortable time. It's that kind of insight into the real world that allowed Emma and our team to imagine a "Laundry Day" visual concept around unmade beds and the safe space they provide for us daily.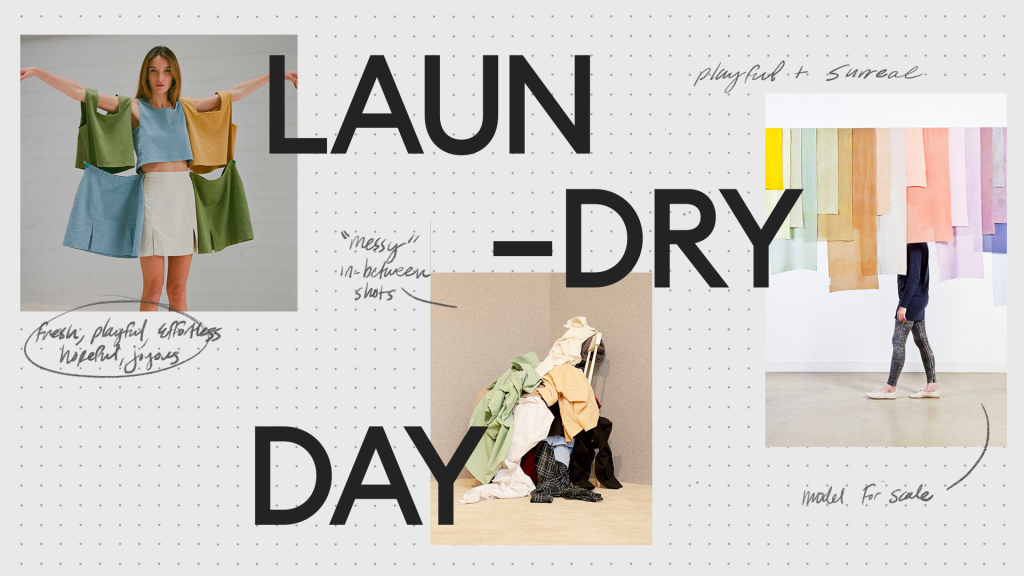 3. Go deep into detail
Even though it's ancient, linen is one of the most technical materials in the world. As a natural heat regulator, it breathes cool in the summer yet keeps you feeling snug in the winter. Getting up close and personal with the product, as well as choosing perfect props to show it off in all its crinkled glory, helped us hone in on the rich craftsmanship that sets a fabric such as linen apart.
4. Add a plot twist
There's nothing worse than being told a story you've heard before. The tale of dreamy bed sheets often revolves around neatly made beds, tucked so tight that it's a wonder anyone could imagine sleeping in them. By inverting the idea of tidiness and crease-free sheets for Flax Home, we created the kind of art direction plot reversal needed to keep this bedtime story interesting.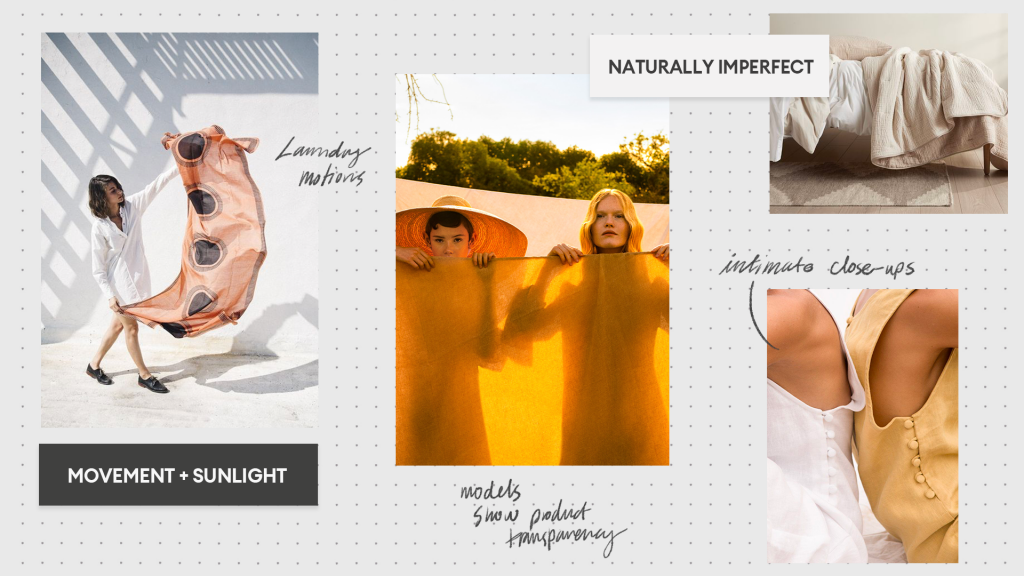 "Having fabric fly around, or crinkle up into beautiful shapes, really allowed the product to shine through."

Emma Sato – CapU IDEA Program Mentor student
5. Craft something tangible
The feeling of fresh sheets on bare skin has to be one of the best sensations in the world. But how do you recreate a sensory experience like touch through a digital ecommerce platform? Connect and invite the reader into your story by playing with motion and adding texture to your imagery.