Packaging is about more than getting your product from A to B. Done right, it can be a meaningful branded experience—an opportunity to tell your story, surprise and delight your customer and reinforce your commitment to sustainability.
While the last decade has seen brands making strides toward sustainability in the way they design and produce their products, we've still got a steep hill to climb when it comes to planet-friendly packaging. In Canada alone, over 3.3 billion tonnes of plastic packaging end up in our landfills each year. With the harrowing effects of the climate crisis across the globe, it's time for brands to commit to climate action at every stage of the supply chain—and embrace a re-use over single-use packaging mentality.
Whether you're a global brand re-evaluating your packaging strategy or an up-and-coming business committing to sustainability from the jump, here are five simple steps to creating sustainable—and beautiful—packaging that will leave a lasting effect on your customer—not on the planet.
Step 1: Focus on the Feeling
Receiving a long-awaited package from a favourite brand can feel as thrilling as Christmas morning. But if the unboxing experience is poorly thought out or doesn't align with your brand's values, you risk alienating a customer that could have been loyal for life—and put your brand's reputation on the line. Let's say one of your core brand pillars is reducing your carbon footprint—shipping each order with a collection of vinyl stickers or filling empty space with poly packing chips might feel antithetical. The first step to a successful packaging strategy is getting clear on how you want your audience to feel when they open your package. What thoughtful elements can you incorporate to take their unboxing experience from a two to a ten, and reinforce your brand while you're at it?
Take a page out Alder Apparel's book. The Canadian outdoor apparel brand packs up every order in a branded, reusable drawstring pouch made from recycled materials—giving shoppers a sustainable (and fashionable) alternative to the plastic packaging that most apparel is shipped in. And while reusable and eco-friendly packaging options may come with a higher price tag, you'll be investing in a covetable unboxing experience that inspires loyalty—and repeat customers.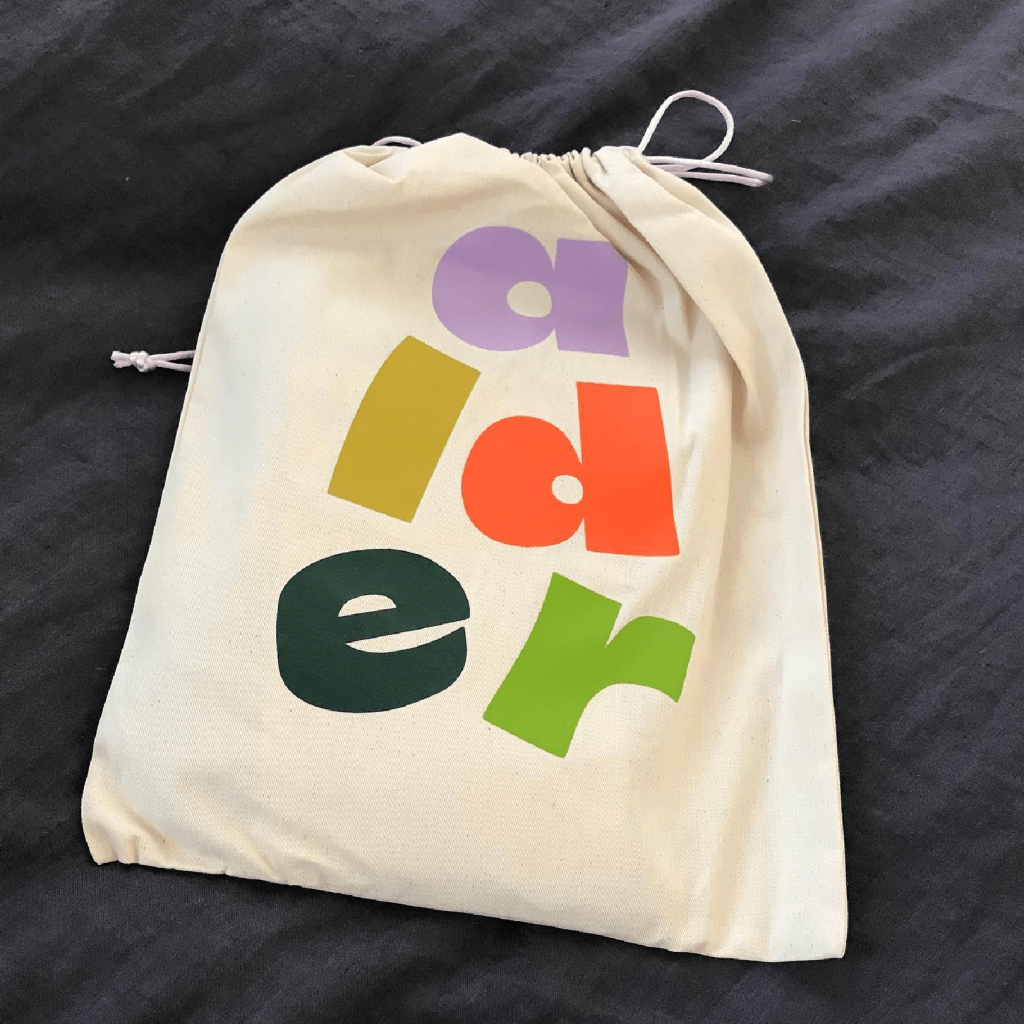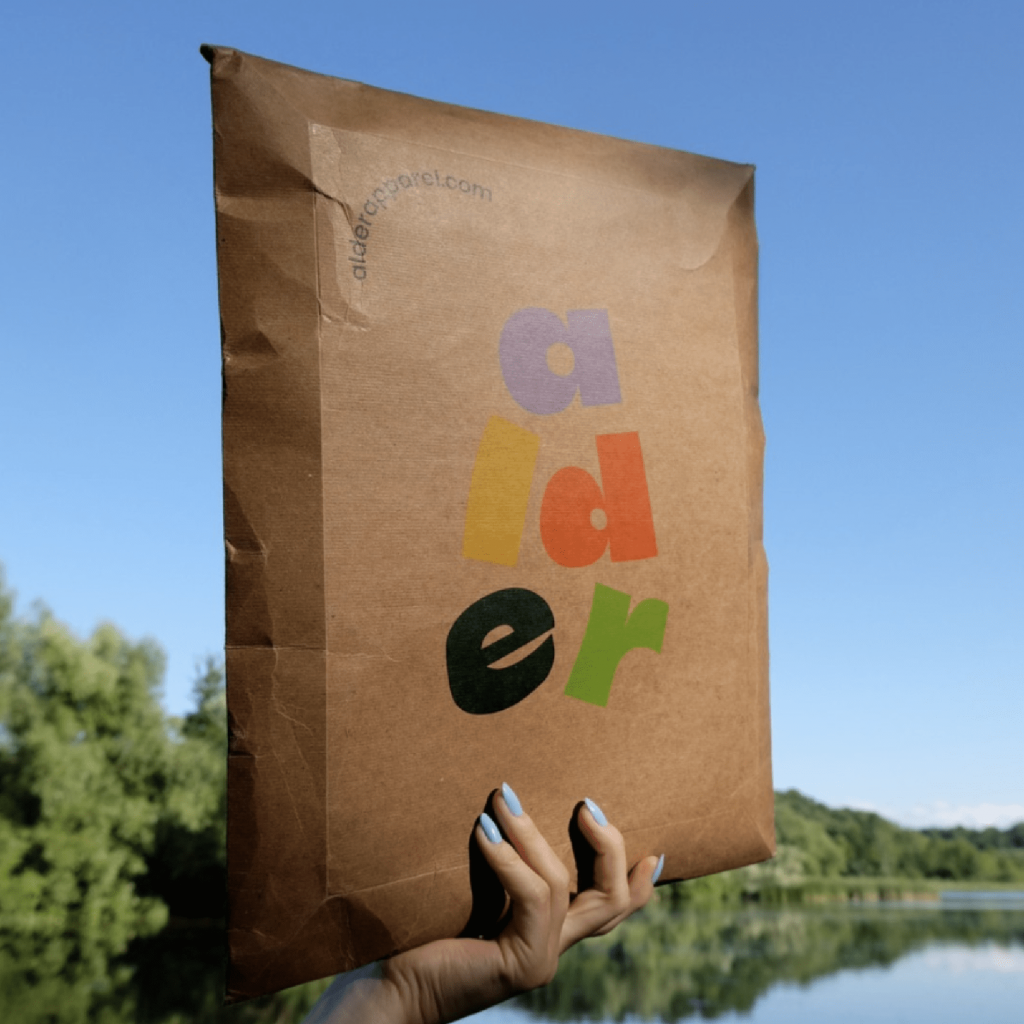 Step 2: Prioritize Practicality
To guarantee that your products show up safe and sound at their final destination, create a requirements list to determine the practical logistics for your packaging. Keep these questions in mind as you define your strategy: Are your goods fragile? How durable does the packaging need to be? Are you contending with oversized, heavy products? If your product is breakable, explore making the switch from traditional packing products—like foam casing or foam chips—to another lightweight alternative. Our go-to? Cork. Easily expandable, shock-absorbent and 100% biodegradable, cork is a tried and true way to protect your goods in transit—and provides a more premium unboxing experience than packing peanuts.
Award-winning British luxury stationary manufacturer AJOTO has trusted cork's protective properties to keep their products safe and sound in transit for over a decade. Through 3D cork molding, AJOTO transforms ground cork—that otherwise would have gone to waste—into pen trays that are durable and lightweight.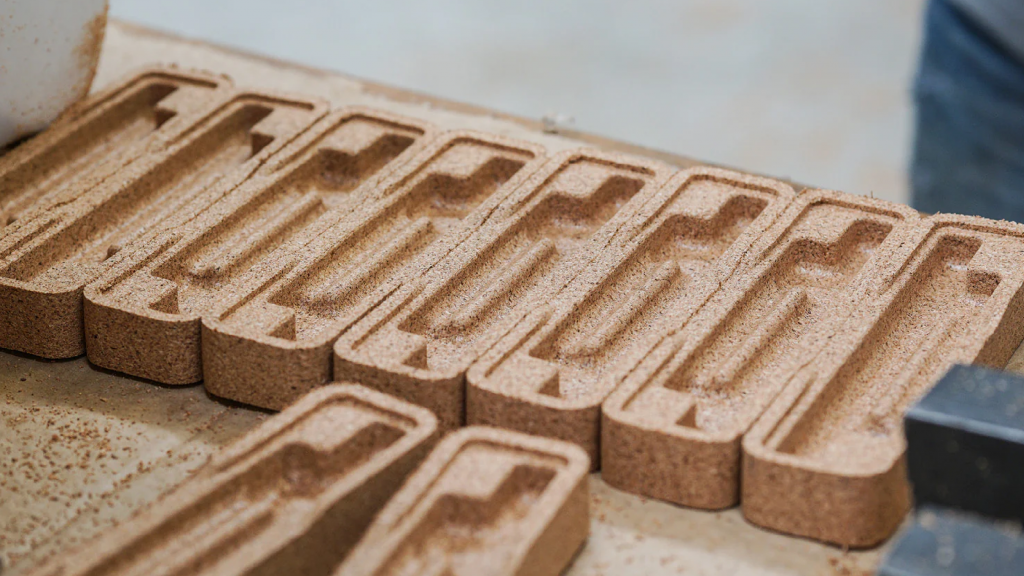 Step 3: Opt for eco-friendly materials
Consumers are seeking meaningful environmental action from the brands they support at every stage of the supply chain—from production to packaging. While plant-based alternatives to plastic packaging are popping up around every corner, choosing a sustainable material that meets your sustainability goals without sacrificing quality or your brand's aesthetic can be a daunting task. Let's break down two tried-and-true swaps for single-use plastic packaging.
Companies like Paptic are revolutionizing the single-use packaging industry with an innovative alternative that balances function and feel. Made from renewable wood fibres sourced from sustainably managed forests, their proprietary product can be used across a wide range of applications—from garment bags to food and electronics packaging. Their ultra-durable material is tear- and moisture-resistant, and can be easily customized to fit your brand's unique vision.
Another alternative we've got our eye on? Sway, the recent recipient of Tom Ford's Plastic Innovation prize, is creating home-compostable replacements for plastic packaging made entirely from seaweed. In partnership with communities that have been severely affected by global overfishing and changing ecologies, Sway cultivates their seaweed safely and sustainably—and transforms it into a carbon-positive packaging solution that replenishes the social and ecological systems harmed by petroleum plastics.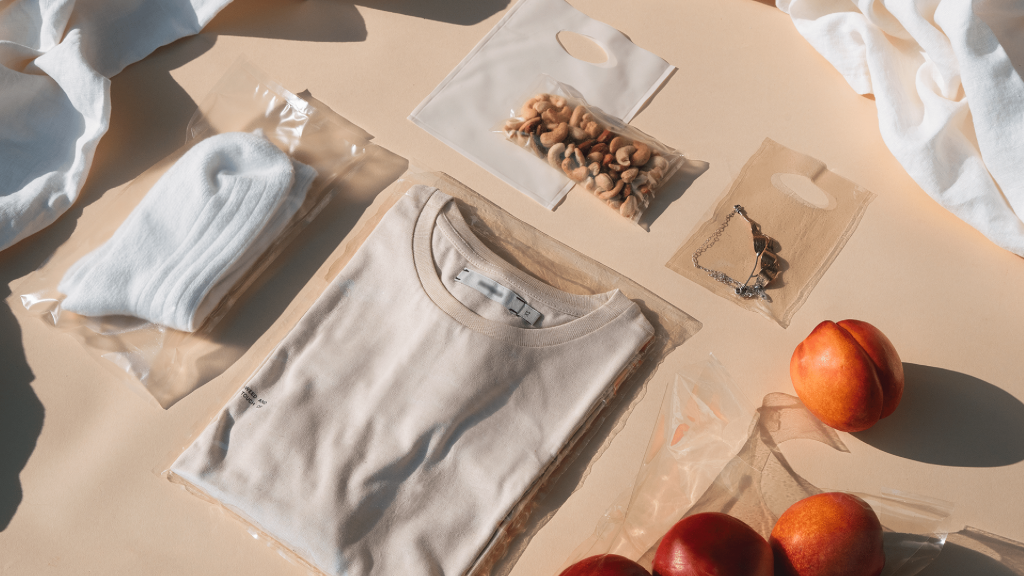 Step 4: Pick planet-friendly print processes
Making the switch to regenerative packaging materials is a step in the right direction. But when it comes to preventing your packaging from ending up in the landfill, the devil is in the details. The treatments, print processes and finishes that are traditionally used to protect your packaging, increase vibrancy and provide a smooth finish are the main culprits that could render your product ineligible for recycling or composting. Looking for a sustainable swap for petroleum and oil-based inks? Soy, water and algae-based inks are all great alternatives—with the latter reducing carbon emissions by up to 200%.
To guarantee that your packaging strategy is sustainable at every step, consider teaming up with a print partner that specializes in zero waste and energy-efficient processes. Our partner of choice? MET Printers, an FSC-Certified, 100% carbon-neutral Vancouver-based printer that works with clients across North America to deliver beautiful, planet-friendly printing solutions.
Step 5: Plan for your packaging's next life
The final step in a successful, sustainable packaging strategy? Guaranteeing that your packaging can live on long after your customer has unboxed it. From biodegradable bags to compostable cardboard, there are more options than ever before to keep your packaging far away from the landfill forever.
noissue has been providing brands with customizable, sustainable packaging solutions that are 100% compostable, recyclable or reusable since 2017. From stickers and stamps to canvas bags and padded mailers, all of their offerings are made with materials that are guaranteed to break down safely and find their way back to the earth.
Looking to take it one step further? QUIL, a Canadian packaging company, offers reusable ecommerce packaging options that make it easy for brands to integrate sustainability into their strategy. The process is simple: brands order packaging and fulfil orders in QUIL bags. Once the consumer receives their goods, they drop the empty packaging in any Canada Post mailbox for a free return. Each bag can be reused up to 20 times, generates 96% less waste, and reduces C02 by 80%.
Finisterre's leave-no-trace garment bags, developed in partnership with Aquapak and EP Group, revolutionized the sustainable packaging space when they came on the scene in 2019. Each mailer bag is 100% recyclable and marine-safe, breaking down harmlessly to non-toxic biomass in soil and sea. The best part? While Finisterre was the first clothing company in the world to use this technology, they're offering it open source to other brands to help create an even bigger environmental impact.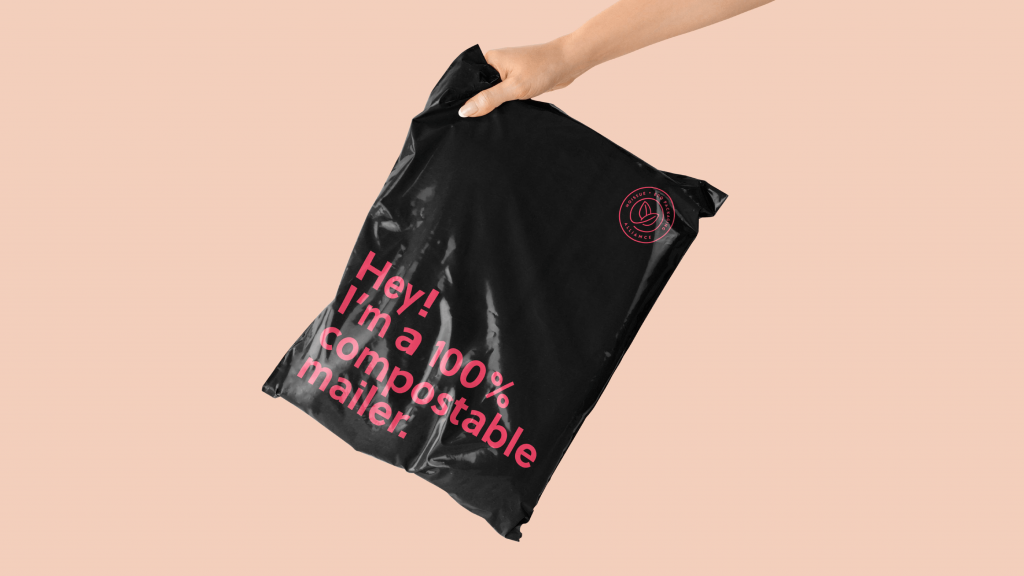 Ready to make your sustainable packaging dreams a reality? We're here to help. Drop us a line.
A very special thanks to Dan McDonald and Lindsay MacKay at MET Printers for lending their expertise and being a trusted partner to the Monday team.