Confession: here at Monday, we're kind of obsessed with email marketing.
Aside from being an amazing tool to make a direct connection with your audience, email has the highest ROI out of any marketing channel, bringing in $36 for every $1 spent. But as appealing as that sounds, don't drop everything and start blindly hitting Send. We're big believers in developing a roadmap where the end destination is a defined strategy that fits your brand goals.  
If you're feeling apprehensive, never fear—we're here to quash some fears and break down the five Ws of an email marketing strategy. You'll be an email marketing maven in no time.
WHY do you need an email strategy?
You wouldn't build a house without a blueprint—the same goes for email. Before you can get to the real meat, you need to determine your goal. Ask yourself what you're trying to achieve. Are you building a new brand? Trying to reengage with lapsed customers? Launching a new product? Conveying the technical properties that make your product premium?
Taking the time to map out a goal-based strategy is crucial if you want to develop and confidently run a successful email marketing program. Taking out the guesswork makes your job as a marketer that much easier.
WHO will you talk to?
You can sing all the praises about your brand, but you should know who exactly you're singing to—and what they care about. Ask yourself: what problem do you solve for your audience? What motivates them? Where can you find them? When are they most likely to read emails?
Once you know this, combined with your business goals, it's time to look at segmentation. This will allow you to send hyper-focused and personalized emails to groups more inclined to open, read, and purchase. In fact, according to Campaign Monitor, personalizing your emails can lead to a 20% increase in sales.
There are a handful of segmentation categories, so it's a good idea to understand what key metrics your brand needs and then try to capture that in the sign-up process. For example, if you are an outdoor gear company selling a wide range of seasonal goods, it may be a good idea to ask what activities your audiences are interested in as it applies to your offerings, such as camping, hiking, RVing, or all of the above. This way, when you spotlight those cool new fully biodegradable tents, you can send them directly to those who have opted into camping-based content.
FUN FACT: Already have a solid non-segmented list? You can still get those subscribers tagged with the applicable segmentation tag by sending an email asking them to update their preferences. Want a stronger response rate? Sweeten the deal by offering an incentive, like 10% off, if they do it.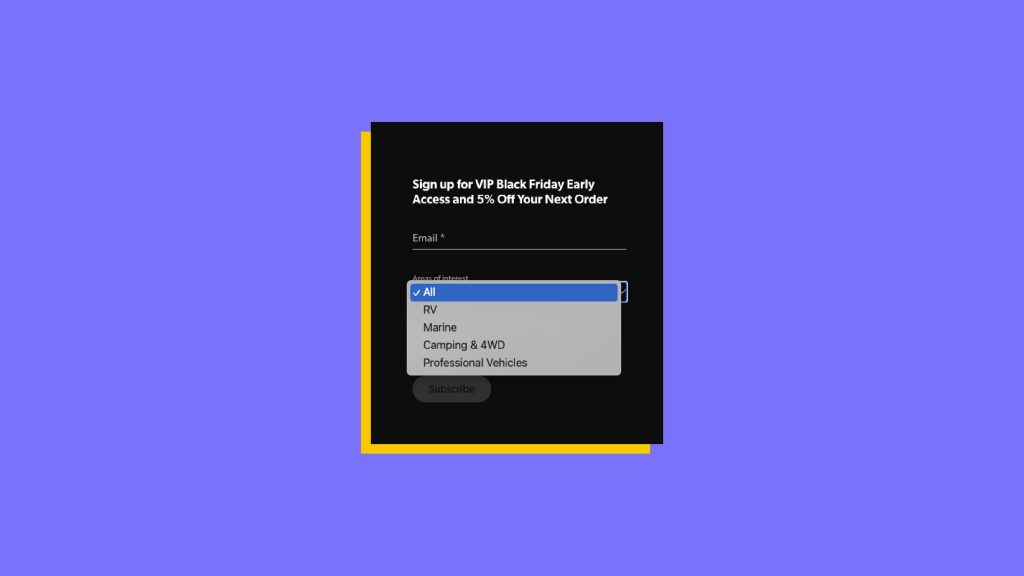 Dometic has segmented its lists into activity categories, asking those signing up to specify which outdoorsy venture they'd prefer to hear about. That means when the brand is ready to send an email highlighting seafaring products, they can target the specific subscribers who are more likely to open the email and purchase.
WHERE do you find new subscribers?
So you've identified your audience and built some brand love—congrats! But don't get too comfortable just yet. Growing your subscriber list is a task that should never really end. Simply put: more people = more visibility = more sales.
Every brand should have an email capture module on their website. This short and sweet form is prime real estate to lure in your audience—either by teasing what they can expect with a benefit-first approach or offering some sort of incentive. Our friends at BelliWelli are a classic example, offering 20% off first orders for new subscribers.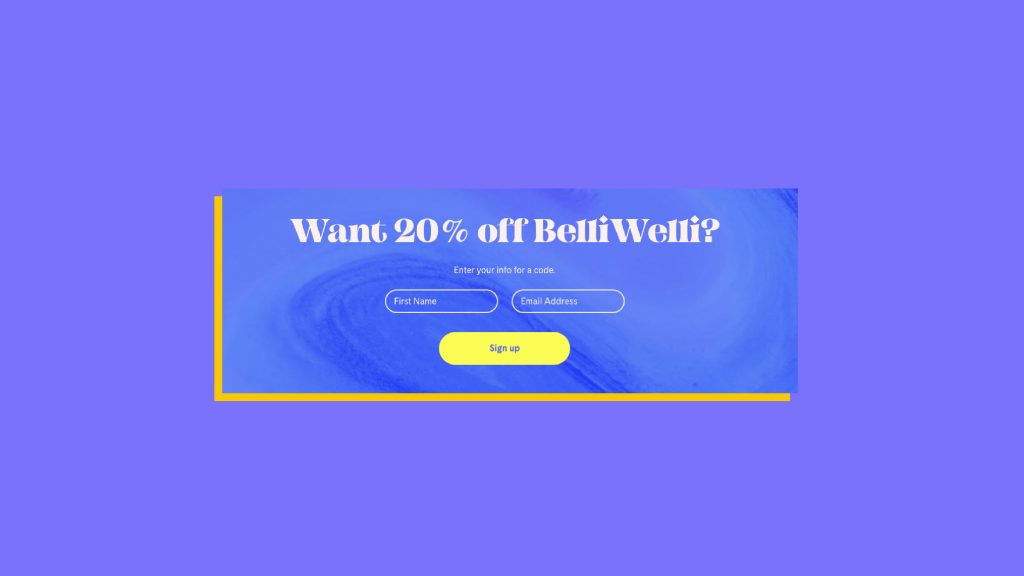 And don't forget about your existing digital and IRL channels. Use your following to shine a light on your email program—for example, dedicate one or two social posts per month to driving sign-ups, or place signage at retail hotspots like the cash wrap or fitting rooms with a QR code to your email sign-up page.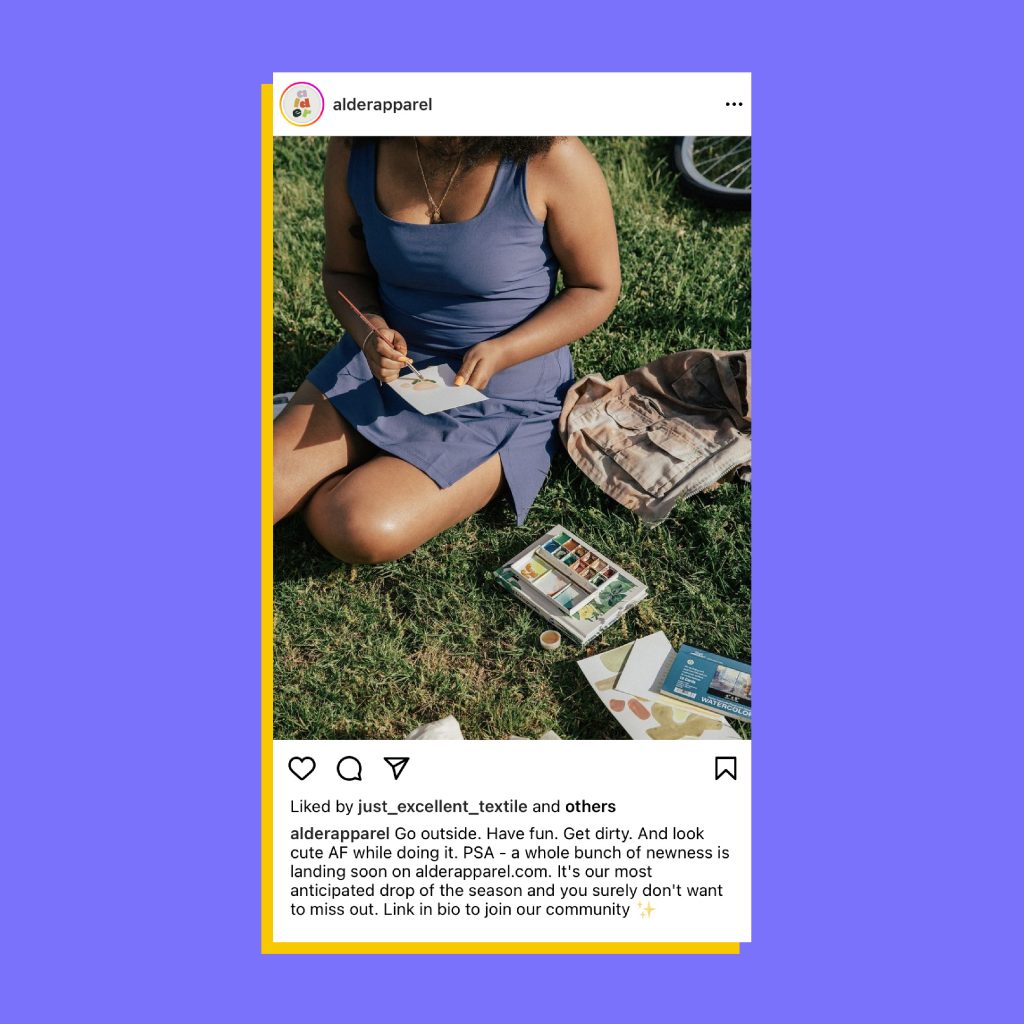 A good ol' giveaway is another fool-proof way to beef up your list. Develop a contest with a juicy prize using email sign-up as the entry mechanism—with super-clear terms and conditions outlining consent. Even better: partner with other values-aligned brands and capitalize on their following too.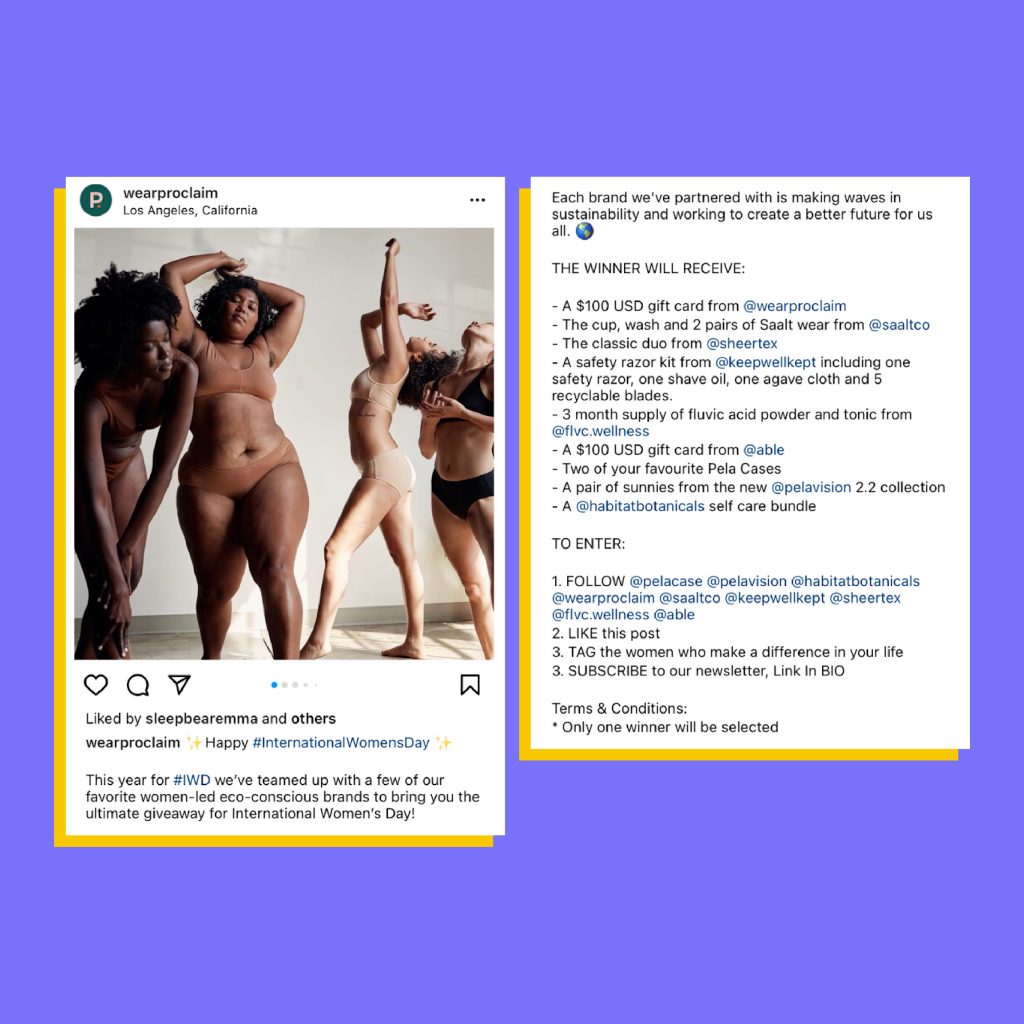 WHAT should you talk about?
Connection is the ultimate enabler of brand affinity and repeat purchase behaviour. So whenever possible, lean into authentic storytelling to inject variety into your email marketing content, rather than solely spotlighting products. We like to call these emails, "brand" emails versus emails that are more product-heavy (aka "product" emails). Now we do want to preference, brand emails don't necessarily always lead to conversion. They are more of that slow burn, the investing pieces, that will eventually pay off in the long run.
For example, if you are highlighting a new collection of sustainable sneakers, try one email that focuses solely on product features, colourways and fabric. Follow that up with an ambassador story where the new sneakers are mentioned, but it's more of a secondary story in comparison to the human being featured.
If you're still wondering what is categorized as a brand vs. a product email, here's the breakdown: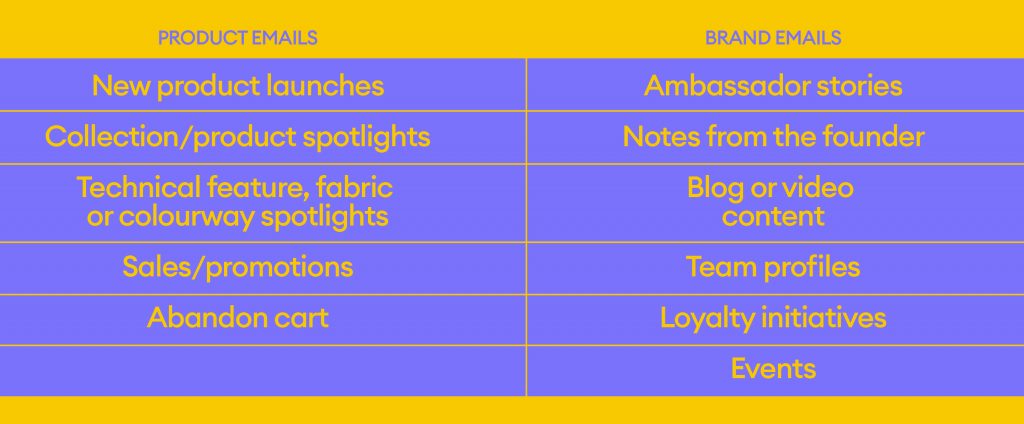 FUN FACT: Try A/B testing with subject lines to understand what your audience reacts to and engages with. Try out testing one email subject line that includes specific benefits—for example, "5 ways to stay sustainable this winter"—against one that's more ambiguous like, "Here's how you can be more sustainable this winter."
WHEN do you talk about it?
There are different schools of thought on how often brands should send marketing emails, but in the end, it truly depends on your brand. We recommend at the very least, sending one email per week to keep your audience engaged and to gather data to help you understand the effect your email efforts are having.
Consider these three factors when deciding how often to send marketing emails.
Bandwidth: how much content creation can your team realistically handle? Don't over-commit to the point where you're sacrificing quality for quantity.
Competitors: how often are your peers sending emails? (Psst: don't be afraid to sign up for their newsletter and find out for yourself).
Audience: once again, put yourself in their shoes. What are some brands they admire and how do those brands approach email marketing?
In the end, there isn't one set schedule that works for every brand. Test out your frequency to see what works best for your team, your audience and of course, your goals. If you start to see a surge of unsubscribes, then you might be pushing it (or it might be time to improve your content).
And the bonus W: How will you know you're WINNING?
Measuring success comes down to tracking the right metrics. Here are some of our favourites and why.
Open Rate: This metric speaks to how many of your recipients actually opened your email. The leading contributor to a strong Open Rate? Your subject line. This short, singular line of copy— think 40 characters max—is what will grab your reader's attention and entice them to open. Pairing your subject line with equally poignant preview text is a surefire combo to secure a solid Open Rate. To learn more about Open Rates and your industry average, check out Hubspot's 2022 Benchmarks.
Click Through Rate (CTR): This is the percentage of recipients who clicked on a call-to-action (CTA) button or link. Your CTR is a clear indicator of how engaged your audience is with your content and an early step to understanding purchase intent. To ensure a high CTR, make sure to include multiple CTAs throughout your emails. Guide your readers to where you want them to go. Some tried-and-true CTAs that never seem to lose their efficacy: Shop Now or Explore More.
Conversion Rate: Your CTR's bigger sister, this is the metric that shows you how effective your content was in bringing in the big bucks.

FUN FACT: If you have a strong CTR rate but not so strong Conversion rate, it's time to take a gander at your website. Look at it this way people are being sent to your site (we know this because of the high CTR), but for whatever reason, they aren't following through with purchasing. At this time, it would be ideal to invest in some user journey work to see where the misalignment is when it comes to your website.

Unsubscribe Rate: This notorious statistic is one you should consistently monitor, especially if you've recently switched up your strategy. If you notice your subscriber list dropping consistently, it's time to take a step back and identify the root cause.
And now for some parting words of wisdom: go forth! Even the simplest email is better than no email. You'll be surprised at how it builds your bottom line (and starts to wean you off of dependence on ad dollars).
If you're looking to up your email game, drop us a line. We're always here to help.