Outdoor Retailer is the campfire our industry gathers around. With over 5,000 attendees from 31 countries under one roof in Denver, CO, the OR Snow Show 2022 was a beautiful reminder of our collective earth-first mentality.
Our Director of Strategy, Jeanine Pesce has been a fixture at OR for over a decade. She moonlights as Founder and Creative Director of RANGE—doing trend forecasting and insights in the outdoor industry. Whether it's exploring forward-thinking innovations IRL or direct-to-your-inbox with the RANGE Horizon Report email, she has built a career (and dedicated following!) around her commitment to closing the loop on people, product and planet.
At the latest show, Jeanine shared the three trends that are sure to create meaningful change in the local and global community.
1. EXPERIMENTAL OPTIMISM
Searching for a deeper connection to self and the world around them, consumers crave statement-making products that communicate their values while embracing an alternative approach to the outdoors. It's about tuning into Mother Nature's frequencies, novelty fabrics, psychedelic prints and electric colour harmonies that are intentionally offbeat, trippy and exploratory.
Inspired by the photography of Phyllis Ma and Wolfgang Hasselman, artificial brights are punchy and grounded by contradictory hues like eggplant and cobalt. Accents teeter on the edge of fluorescent. Materials play with rich surface textures like high-pile sherpa and raised knits, as well as mushroom and vegan leather. Designs feature playful trims and hardware such as hand-stitching, colourful eyelets, novelty webbings and offset D-rings.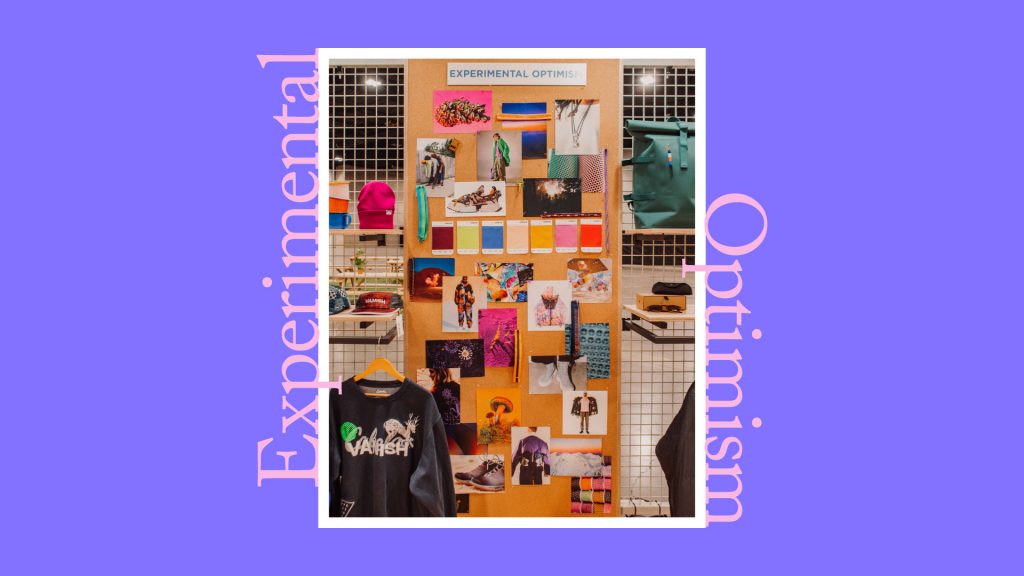 What We Saw: Expanding Horizons
While cannabis and CBD have had their time in the spotlight, mushroom-related products are primed to thrive in a wellness-driven world. As designers like Stella McCartney and activewear brands like lululemon begin to incorporate Mylo mushroom leather into their collections, we'll start to see more of these alternative materials enter the mainstream.
The PACT Kit is an all-in-one backcountry cathole kit with an ergonomic trowel, a dry wipe that users moisten for better cleaning, and a mycelium compound to help recycle waste and sequester toxicity in the environment.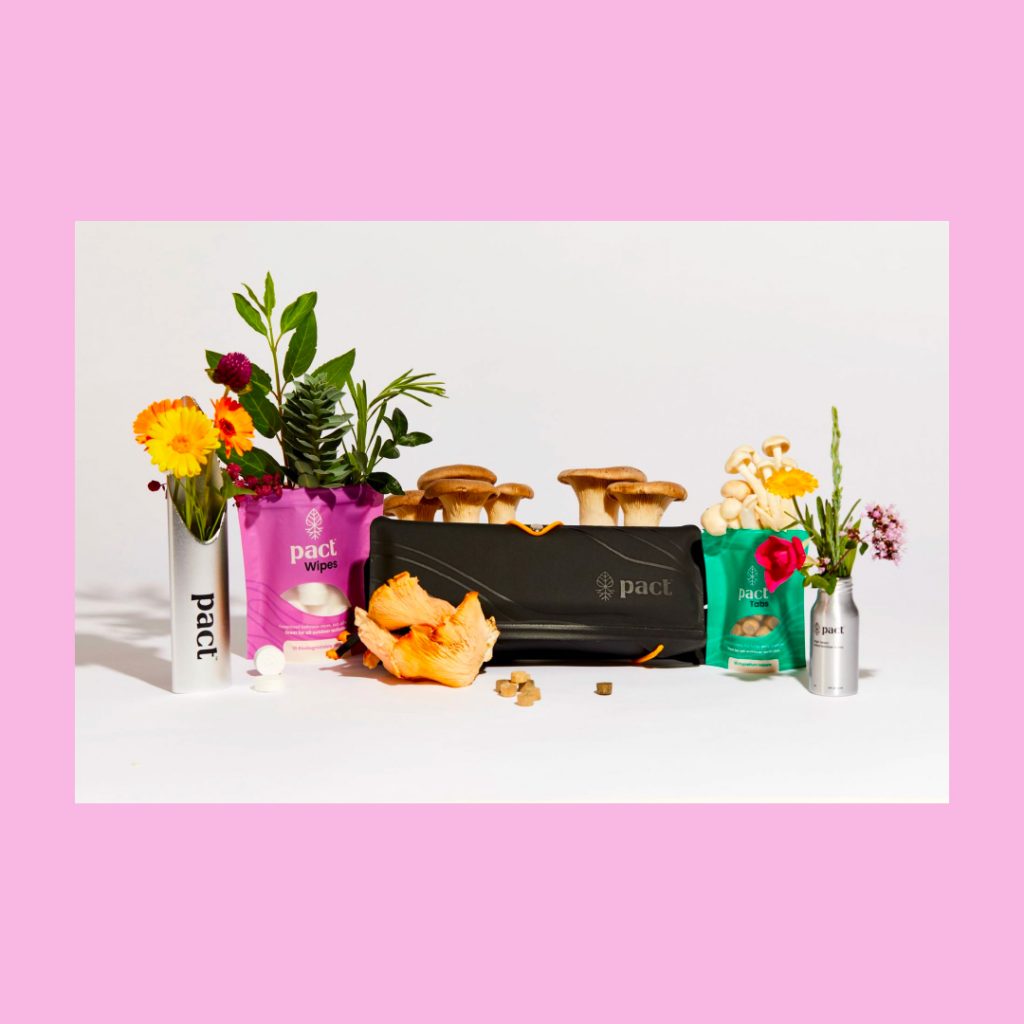 Autumn Headwear's range of bold, bright Select Beanies and Hi Tek Hoods come in saturated shades of orange, magenta and lavender.
The retro-inspired OMAR frame from OTIS design is made using an eco-acetate frame material derived from widely found natural materials like cotton seeds and plant matter. Non-fossil-fuel binders are added to create a rich appearance and adjustable fit—that means the acetate part of the frames is non-toxic, recyclable and certified biodegradable. All metal components are also recyclable, ready to be used again at their end of life.
UK-based snowsports and swimwear brand OOSC Clothing made its OR debut with a range of brightly retro ski-wear packed with smart features like taped seams and magnetic closures, as well as an eco-concious philosophy showing up via snow pants made from recycled plastic bottles and biodegradable packaging.
2. NATURAL ORDER
Consumers are waking up to a more integrated sustainable lifestyle. The next generation of products starts with material innovation that looks to nature for inspiration to create regenerative solutions. Leading us into a future that fuses technology and ecology, biophilic concepts have become a full-scale cultural movement. Brands are adopting a freeform, ergonomic approach to design that is tactile, responsive and uses biomimicry as a modern celebration of the environment.
As seen in the artwork of Fikri Amanda Abubakar, Javier Rivera, Mark Dorf and ​​Landsat 8, a U.S. observation satellite, buttery neutrals and bioluminescent brights work in harmony with sulfuric greens and algae-inspired hues. Moss textures, sublimation prints and natural marbles come to life with earth-friendly materials such as felted wool, perforated suede, translucent cow-skin leather and peelsphere, a leather-alternative biomaterial made from fruit waste and algae.
What We Saw: Innovative Alternatives
The Biomimicry Institute is looking at how nature decomposes to tackle our massive fashion waste problem. It also shows how the fashion industry—relying on advances in regenerative agriculture, cellulosic fibers, fermentation and gasification—can work with existing technology and nature to jump-start the transition to bio-compatible fibers right now.
Bio-based and natural plant-based alternatives like Ecodear Nylon (60% bio-based, developed with sebacic acid generated from Castor beans) presents a massive opportunity to lower our collective carbon impact.
Kathmandu's NXT-Level Bio Down Jacket, winner of the Innovation Award, uses AMNI SOUL ECO nylon insulated with Responsible Down Standard (RDS) 600-fill-power duck down with TrackMyDown traceability. It's made exclusively from biodegradable materials including the face fabric, lining, thread, cotton labels and zippers, as well as the poly bag and the swing tags.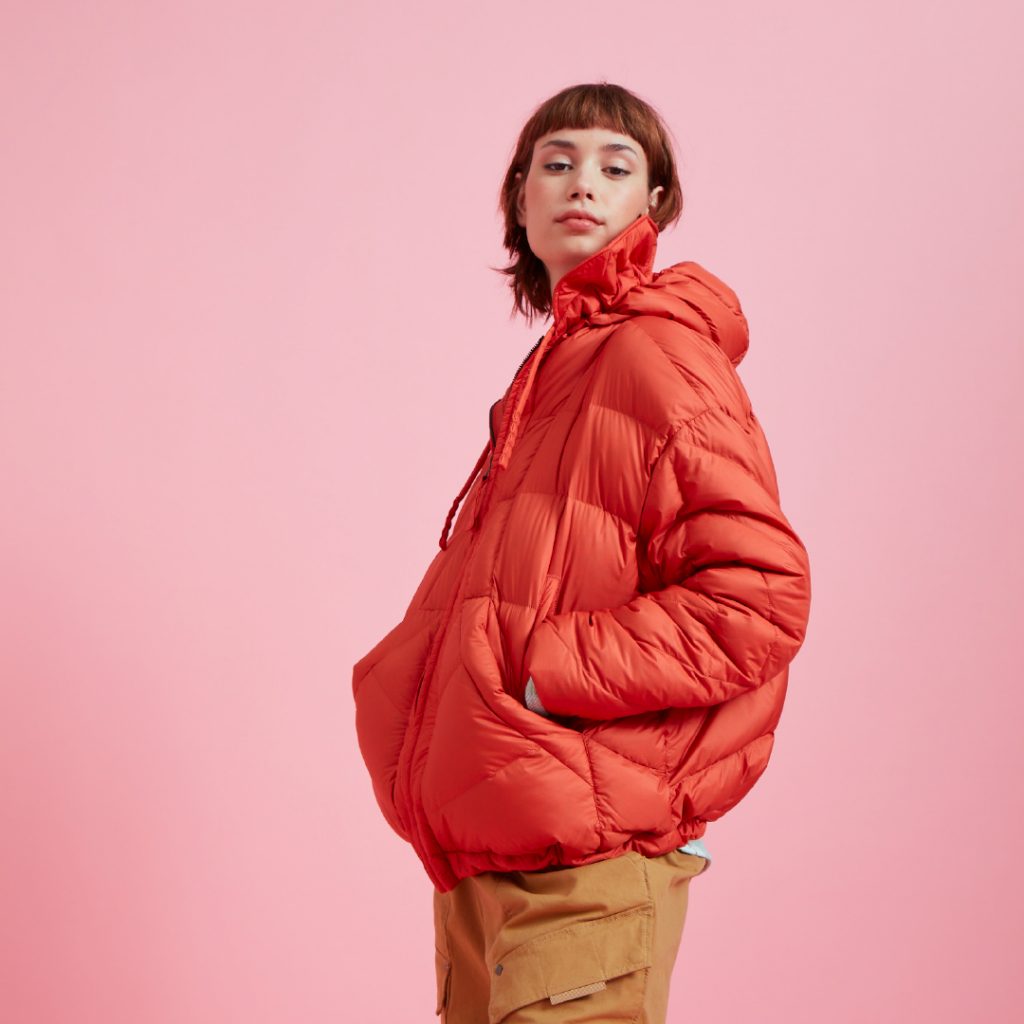 Whether from a sheep or a yak, Woolmark updated its factsheet on biodegradability with a new study confirming wool naturally biodegrades in soil and marine environments and validating the fact that wool doesn't accumulate in landfills or oceans like microplastics and synthetics.
Solid State Clothing's 100% biodegradable North Carolina Black Walnut Shirt is dyed with locally-foraged black walnuts, the fruit of a tree native to the Eastern U.S., and made from 100% North Carolina cotton. Its clothing is intimately connected to the land as each shirt tag is stamped with a QR code that introduces customers to the farmers and manufacturers who made the garment.
For many brands, the "farm-to-closet" idea is the first step in closer relationships with material producers and linked to the expansion of cotton tracing technology as well as new systems like Fibretrace, which embeds a bioluminescent pigment in any fibre, encodes information like where it was farmed or sewed via blockchain, and provides a scanner to check the data on finished items.
First highlighted in Issue 58 of the Horizon Report: Outdoor Retailer Summer 2021 Recap, GOT Bags works directly with the communities that spend most of their time on the water, creating a network of over 2,000 Indonesian fishermen to recover the ocean plastics they pull in with their nets. Their minimal and stylish packs are the world's first backpacks made of 100% recycled ocean plastic.
Icebreaker debuted the Shell+Hooded Jacket crafted from 100% woven merino wool that's coated in a water-repellent finish to deliver a natural-fiber shell alternative.
3. DIGITAL LANDSCAPES
Adopting an urban-meets-outdoor mindset, consumers are attracted to organic, architectural patterns that blur the lines between IRL and URL. Minimal, sophisticated harmonies and macro patterns found in city-centric topography enhance sensorial stimulation for soft and hardgoods. Adding depth and dimension to surface finishes, digital and natural terrain become one.
Monochromatic, utilitarian bases are amplified by digitally-enhanced brights—a colour trend that can be seen in the photography of Paul Winwar and Ryunosuke Kikuno. Designs feature durable materials like Dyneema®, Graphene, Kevlar and CORDURA® and are given added functionality with reflective trims, carabiners, cams and clips.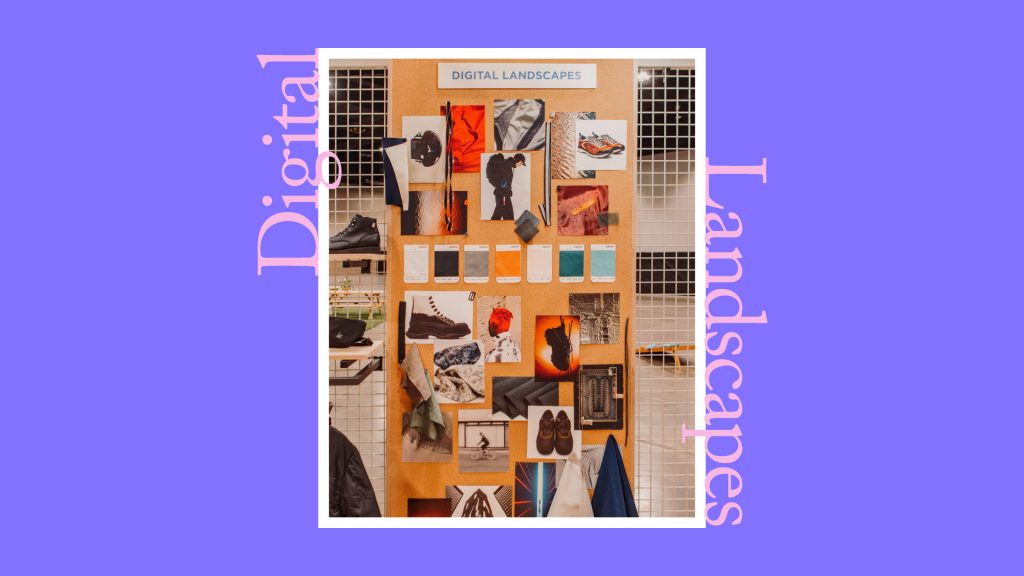 What We Saw: Minimal Meets Rugged
As multifunction enters the mainstream, tactical techwear is reaching a broader audience that engages in daily problem solving for urban environments, extreme expeditions and endurance training.
Norda is the first running shoe made mostly of Dyneema fabric, including bio-based Dyneema uppers and Vibram midsoles on the Norda 001. The winter-oriented Norda 001 G+Spikes has graphene in its waterproof membrane for heat conduction, as well as metal spikes for ice traction.
Developed in collaboration with rangers of the African bush and the Southern African Wildlife College, a conservation training institute in Kruger National Park, Sweden-based OR Innovation Awards winner CAKE's new Kalk AP is a limited-edition solar-powered bush bike which comes in motorcycle, moped and outback patroller models. The juiced-up bike batteries also serve as portable power sources for devices in need of charging and three percent of every AP purchase goes back to the college.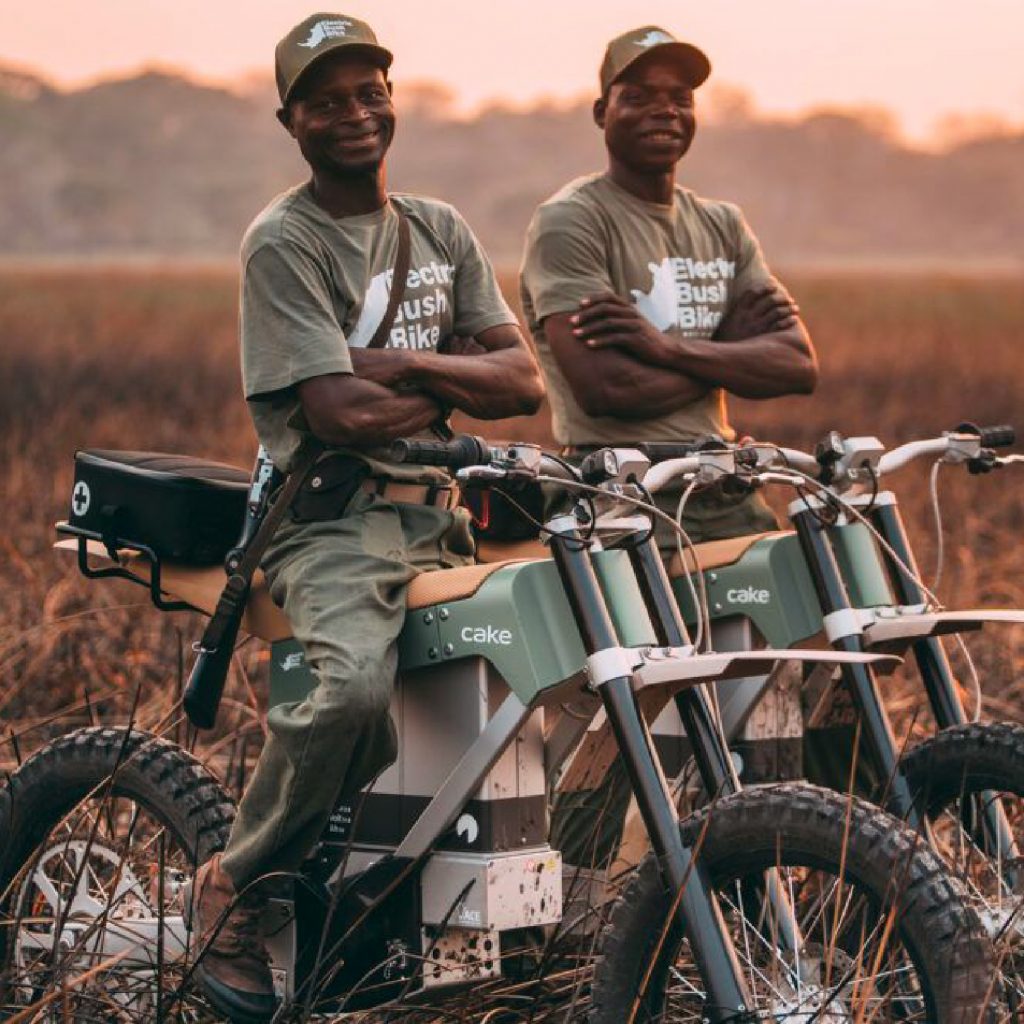 The Ortovox Diract Voice is the world's first avalanche transceiver with integrated voice navigation. The device gives users instructions during every step of an avalanche rescue, using three antennae and Smart-Antenna Technology to double its range and increase the chances of finding a buried victim.
Made in Danner's Portland factory using only the finest materials available, the new Evergreen Collection available Fall 2022 includes the men's and women's Douglas and men's Pine Grove Chukka. Crafted with soft, premium leather and a resoleable Danner® Wedge outsole, this collection features a timeless aesthetic, modern tech and comfort for miles (and miles). And since they're fully recraftable, Danner will happily restore your boots as needed—so you can wear and repair them for decades to come.
Nanga's Northern Light Down Jacket uses water-repellent Ultra Dry Down for the insulation, so it's resistant to moisture and wetness with an outer shell of 15dn x 40dn Nylon, with a unique texture like oiled cotton.
Fired up and ready to ignite change? Subscribe to the RANGE Horizon Report for a bi-weekly dose of what to watch, why it matters and how to take action. You'll be transported into the future reality that's impacting the outdoor, active and lifestyle industry keeping you miles ahead of the rest.