National Donut Day, National Cuddle Up Day, National Vision Board Day, National Winter Skin Relief Day, National Hot Pastrami Sandwich Day, National Thank God It's Monday Day…(Okay, maybe we're not mad at this one).
In a world where content is king, you may be tempted to start filling up your editorial calendar with as many occasions as possible to keep the content machine going.
But whether it's a commercial opportunity like Valentine's Day or something meaningful like Juneteeth, if it's not brand-aligned you risk watering down your message.
If you're an app that supports mental health, it might make perfect sense to mark Blue Monday (Jan 18—infamous as the saddest day of the year), but if you're an Austin-based CPG startup, it's probably not actually serving most of your audience to celebrate National Texas Day (Feb 1).
Instead of jumping on the bandwagon and marking an occasion just because, take a moment to ask yourself how and why you're showing up to the conversation with these three simple questions.
1. Is it genuine: Are you staying true to your brand purpose?
As you plan your marketing calendar for the year, start by revisiting why your brand exists in the first place. Look beyond what you do and how you do it, and focus on why your company opened its doors (or secured that URL) in the first place. Taking a moment to ground your brand in those values or pillars will ensure your content is consistent and aligned—including the holidays that you celebrate as a brand.
55% of consumers believe businesses today have a greater responsibility to act on issues related to their purpose.

SOURCE: DELOITTE, 2019
It will also act as a welcoming invitation to like-minded consumers who are new to your brand, while deepening the connection with your current audience.
A perfect example of how to do this right is from Monday fave Cotopaxi which announced their climate neutral certification on Earth Day. As a certified B Corporation with a double commitment to making durable, ethically-sustainable gear and empowering communities through their give-back program, they show that it's not just about acknowledging, but actually doing.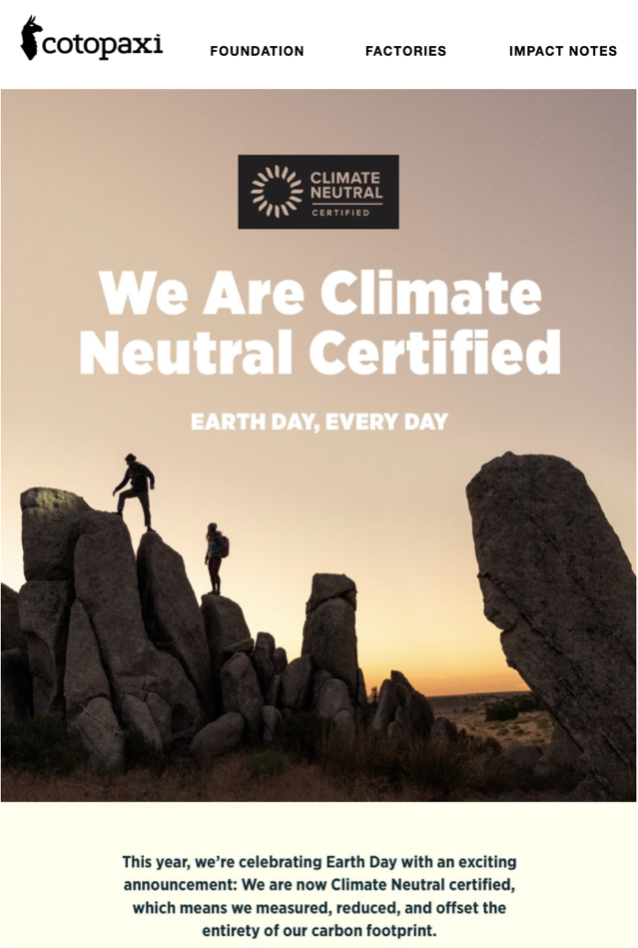 2. Is it valuable: Are you adding anything tangible to the conversation?
It's easy to get caught up in the moment or feel pressured by what other brands are saying—we forget to ask ourselves whether we're truly adding value or simply adding noise.
Executing effectively is not just about crafting a catchy message and putting money behind it—it's about doing the research to thoughtfully propel a conversation within your community.
Women-owned and operated performance brand Coalition Snow showed their commitment to building a more inclusive community by dedicating an entire campaign to Juneteenth. With zero-tolerance for racism and systemic oppression, they encouraged their community to join an activist march, purchase from black-owned businesses, and attend an event to reflect on Black history, while sharing educational resources to back it all up.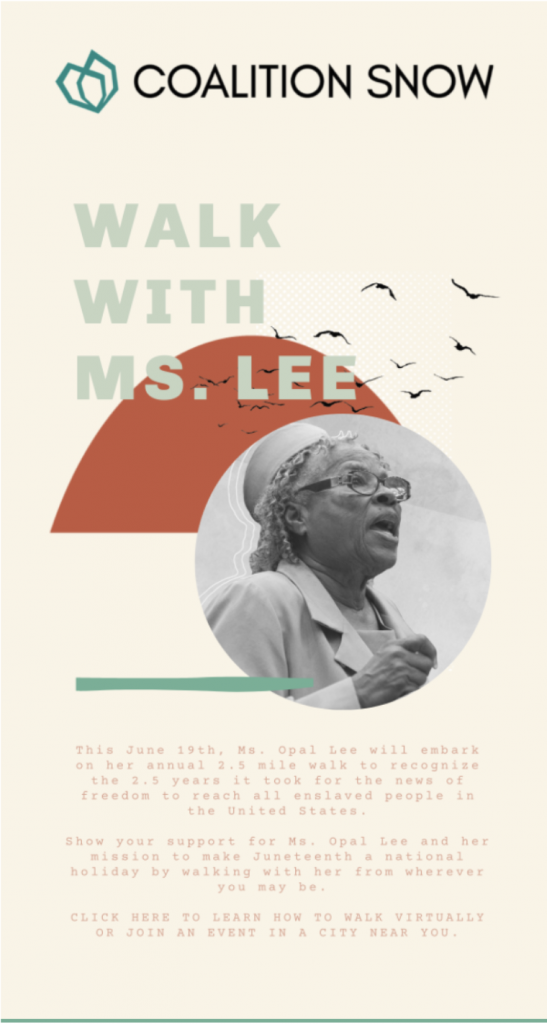 72% of cultural pioneers agree brands have a role to play in speaking out about social and societal issues.

SOURCE: HIGHSNOBIETY, 2021
Kitchen cult-favourite, Our Place, crafted an email in celebration of Ramzan Mubarak. The content was grounded in genuine emotion by sharing their founder's familial ties and heritage. Not only is the campaign drool-worthy, but it humanizes the brand by including first-hand stories. You innately feel more connected to who they are and what they care about—and because it's directly related to their founder's culture, it doesn't feel performative.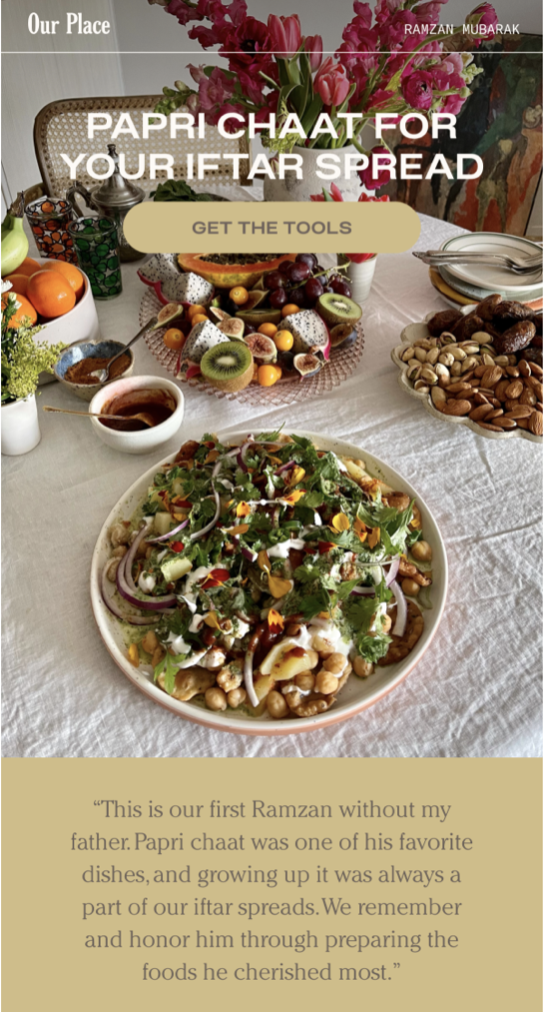 3. Is it relevant: Are you continuing to connect with your audience?
Keep an eye on your community and an ear to the ground in regard to the world's vibe. There may be holidays that you've invested in historically that no longer feel relevant to your brand or your audience.
"Brands don't need to be a part of every conversation—you can't stand for everything. Listen to your community to understand what matters to them, and look for where that overlaps with your brand's purpose and values. Then commit to those holidays and don't worry about the rest."

AMANDA SMITH, CEO OF MONDAY CREATIVE
This year, we saw many of our favourite brands giving their audience the opportunity to opt out of Mother's and Father's Day content that might be triggering—showing great efforts in empathy and inclusivity in the process.
Community-first brand Pineapple Collaborative did a wonderful job of inviting their readers to opt out of receiving Mother's Day emails. Simple, thoughtful messages like this welcome an open dialogue with your audience and build a sense of trust and transparency.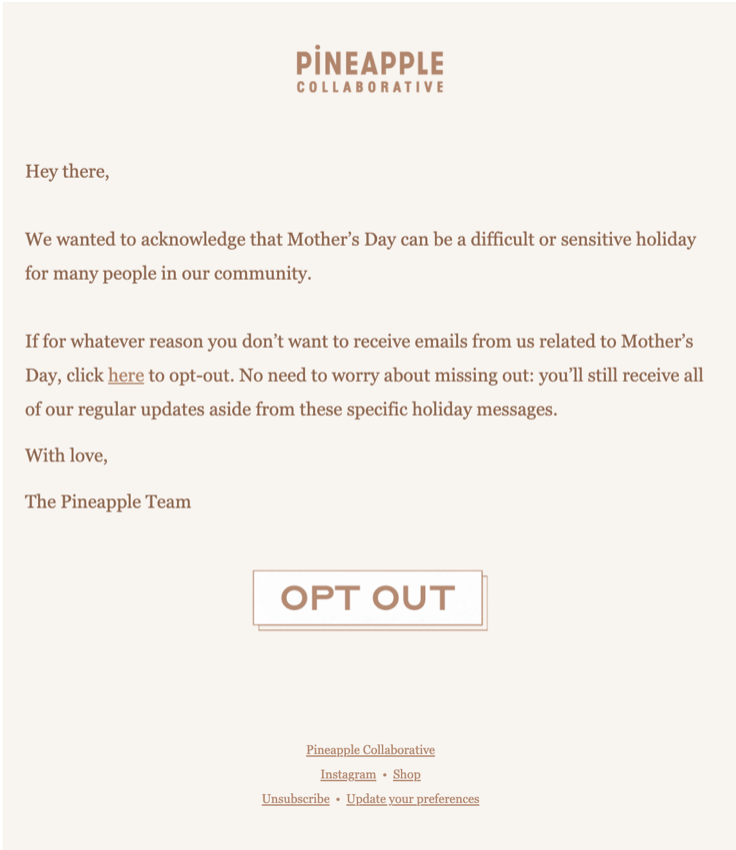 Or if you're committed to reducing waste, leveraging a commercial holiday that encourages over-consumption like Black Friday might not feel relevant to your audience. Since July 2018, clothing brand Alex Mill has saved an estimated 768lbs of fabric from landfills by working with FABSCRAP and upcycled 1,603 garments into one-of-a-kind designs. So, instead of taking part in a holiday that comes with wasteful habits, in 2020 they consciously abstained from Black Friday altogether by calling for calm amid global chaos.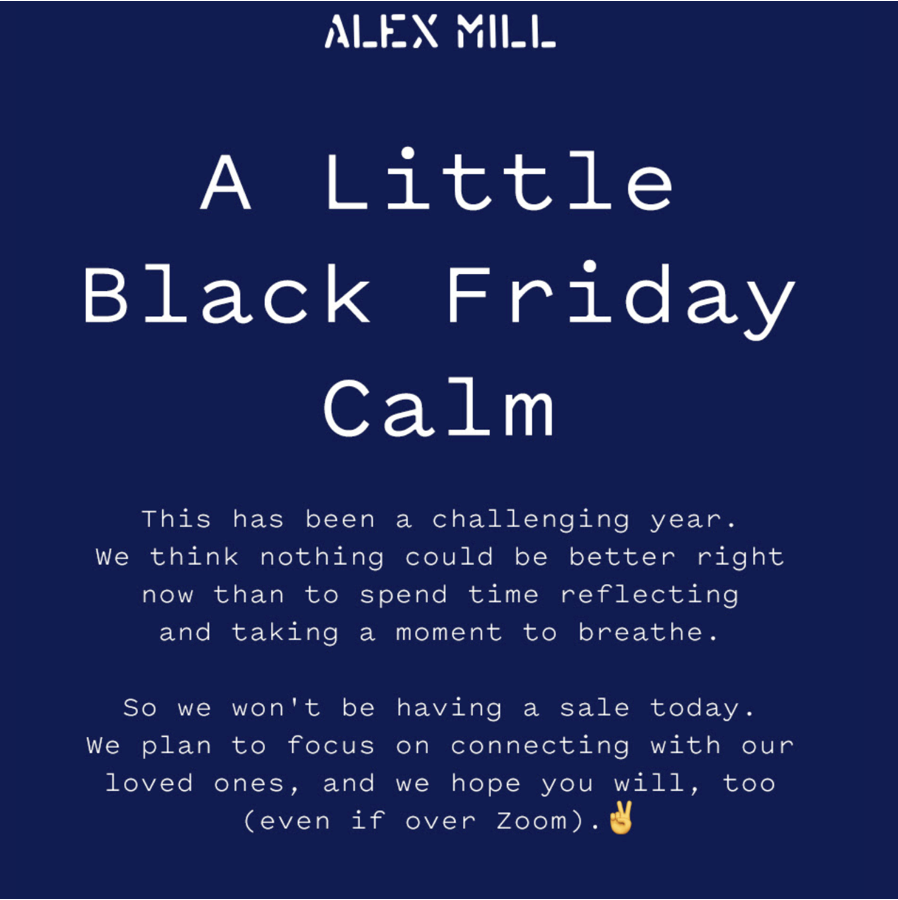 At the end of the day, remember: be intentional, and be you.
As you nail down what holidays matter for your brand, think beyond just strategy and make sure your heart (and messaging) is in the right place. Remember to stay true to your purpose, do your research, and stay connected with your audience by having open dialogues about the causes and celebrations that make their hearts sing.
Ready to carve out the content calendar of your dreams and celebrate in ways that matter? Don't be shy, say hello. We'd love to lend a hand (or two).