Over the last decade, thrifting has evolved from a stigma to a status symbol—a badge of honour you can wear proudly every time you say, "Thanks, it's thrifted." Attribute it to an increased awareness of the toll that fast fashion and consumerism are taking on our planet, the clean-out trend that kept us busy during COVID, or the looming recession that's had all of us tightening our belts—shopping secondhand is here to stay.
Since 2021 alone, the secondhand market has grown exponentially, displacing nearly 1 billion clothing purchases that might have been bought new. But in a world that's still predominantly focused on the novelty of newness, how do we convey the value of resale to our consumers? Here are our four tips for enhancing your recommerce experience and putting the value of resale front and center.
1. Host an IRL experience
In a world that's becoming increasingly virtual, consider shifting your resale experience to the real world. Hosting an IRL pre-loved pop-up is a great way to get face time with your audience and put the spotlight on your circular initiatives in a fresh, memorable way. But just because you're selling secondhand doesn't mean it needs to feel like grandma's garage sale. Consider curating a collection of coveted vintage pieces or out-of-stock apparel based on seasonality or theme—and never underestimate the power that cocktails and good tunes can have on any event.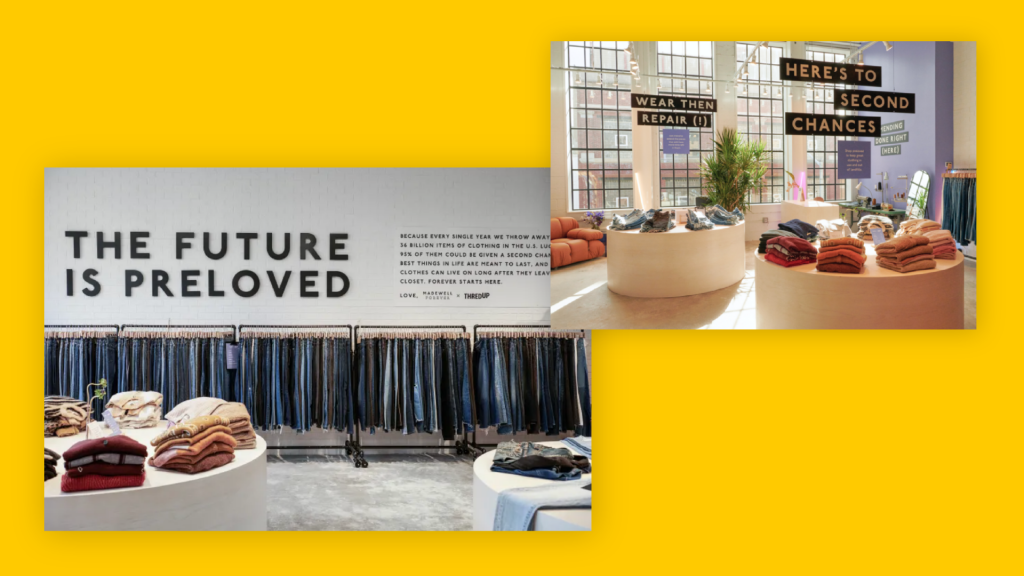 Take a page out of Madewell's book. They debuted their online resale platform Madewell Forever in partnership with ThredUP in 2021—and marked the launch with a secondhand shopping experience in Brooklyn. Their Circular Store featured a curated assortment of pre-loved Madewell apparel, a mending station for on-the-spot repairs and alterations, and QR codes located around the store to educate shoppers about the benefits of circular fashion. While the pop-up was only open for a limited time, Madewell has kept the initiative going with permanent pre-loved sections available to shop in some of their biggest retail locations across the US.
We're fresh off the heels of our first-ever Monday Resale event—a pre-loved pop-up hosted at Monday HQ—where our team cleaned out their closets for a good cause. The result? Connections made with pals new and old, new-to-you outfits for all, and a donation to a cause that's close to our hearts. Make sure you're signed up for the Field Report to be the first to know about future resale events.
2. Simplify the process
While peer-to-peer resale networks like Depop and Poshmark have been ruling the recommerce space for over a decade, brands have started taking resale initiatives into their own hands—and they're reaping the benefits. The stats say it all: 9 in 10 people say they're more likely to buy secondhand from the brand itself than on a reselling platform—with convenience being the driving factor. And while we may have every intention of photographing, listing, and managing the sale of that ever-growing "to donate" pile—it somehow feels like an insurmountable amount of effort actually to do.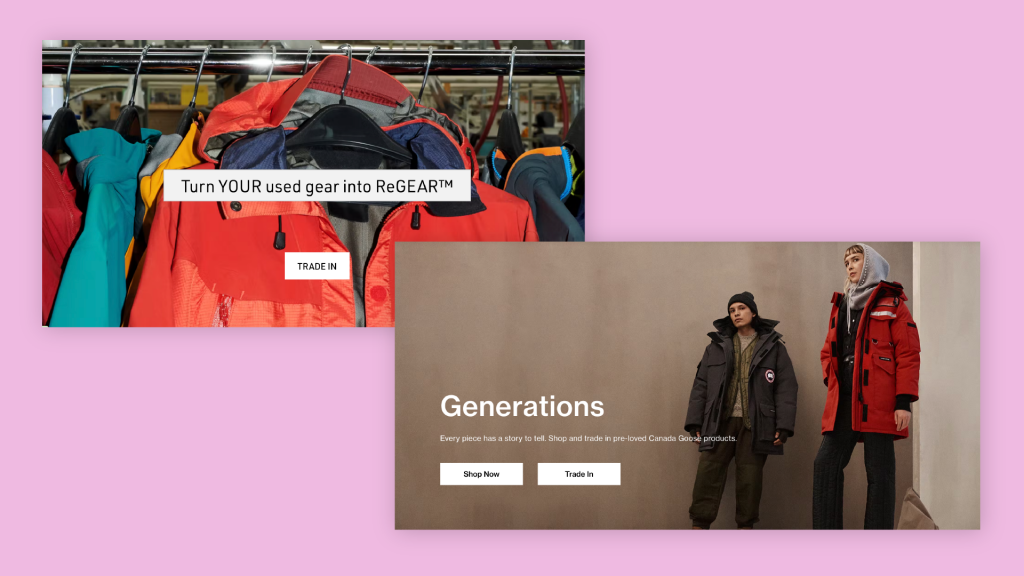 Companies like Trove are revolutionizing (and simplifying) the way that brands can make recommerce a profitable part of their business. Operating with a return-to-brand model, Trove helps brands bring pre-loved items back into their ecosystem via in-store and online trade-ins—so they can own the resale value chain from start to finish. They've partnered with the outdoor industry's biggest names—like our friends at Arc'teryx and, most recently, Canada Goose—to embrace circularity and the resale experience in a way that's easy on the environment and the consumer. The process couldn't be simpler: ship your pre-loved piece back to the brand with a prepaid shipping label to give your garment a second life and receive a credit to purchase something new—or better yet, new to you.
3. Share the impact
Today's consumers are expecting transparency from the brands they support—and they'll hold you accountable to bring it to the table. Just as beloved brands like Everlane and Reformation are no strangers to sharing annual Impact Reports to draw back the curtain on their sustainability initiatives, recommerce leaders like ThredUP are standing up to show consumers just how much of an impact shopping secondhand can have on the planet—and they are empowering new-comers to join the movement. ThredUP's comprehensive Resale Report is equal parts educational and inspirational—sharing staggering statistics that break down the size and impact of the rapidly growing resale market (anticipated to grow 126% by 2026) and positioning shopping secondhand as a powerful solution to the fashion industry's wastefulness. By presenting the facts in an engaging, highly visual way, ThredUP is putting the value of resale front and center—and making the shop-to-sell mindset feel like a no-brainer.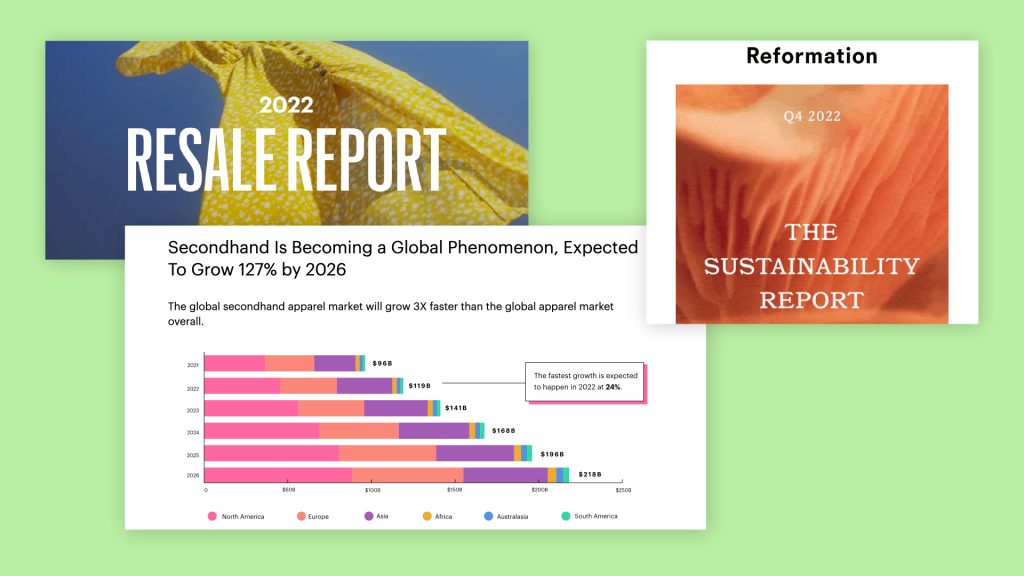 4. Give recommerce the spotlight
A new season is almost upon us, and with it comes an inevitable influx of new product launches and fresh seasonal style—and persuasive marketing tactics that pressure you into clicking "add to cart" more times than you'd care to admit. Instead of putting the focus solely on what's new, consider letting your resale initiatives share the spotlight. Try curating seasonal, pre-loved clothing drops to launch alongside your new collections—and don't banish recommerce to the bottom of your website. By making your resale initiatives an integral part of your market strategy—from digital ads to dedicated email campaigns—you'll show your audience that sustainability isn't just an afterthought.
But embracing circularity is about more than fleeting trends or seasonal campaigns. For it to really resonate with your audience, it needs to be an authentic representation of who you are and what you stand for 365 days a year. We've been shouting it from the rooftops for years and have no plans on slowing down: brand positioning is the foundation of everything you do—the "why" that guides all internal and external communication. Getting ultra clear on your purpose—and living by it—and then aligning any new consumer or product initiative with it is the key to building a recommece brand that your community can really get behind. If you're looking to enter the recommerce marketplace or want to see how these tips can take shape for your brand IRL—drop us a line. We'd love to hear from you.